---
In This Issue:

Westfield Sells Five Malls
Single-Tenant Grocery is Hot
What the Top Malls Have in Common: Apple
Recent Transactions
AVG Presenting at 2016 IPT Annual Conference
---
Westfield Sells Five Malls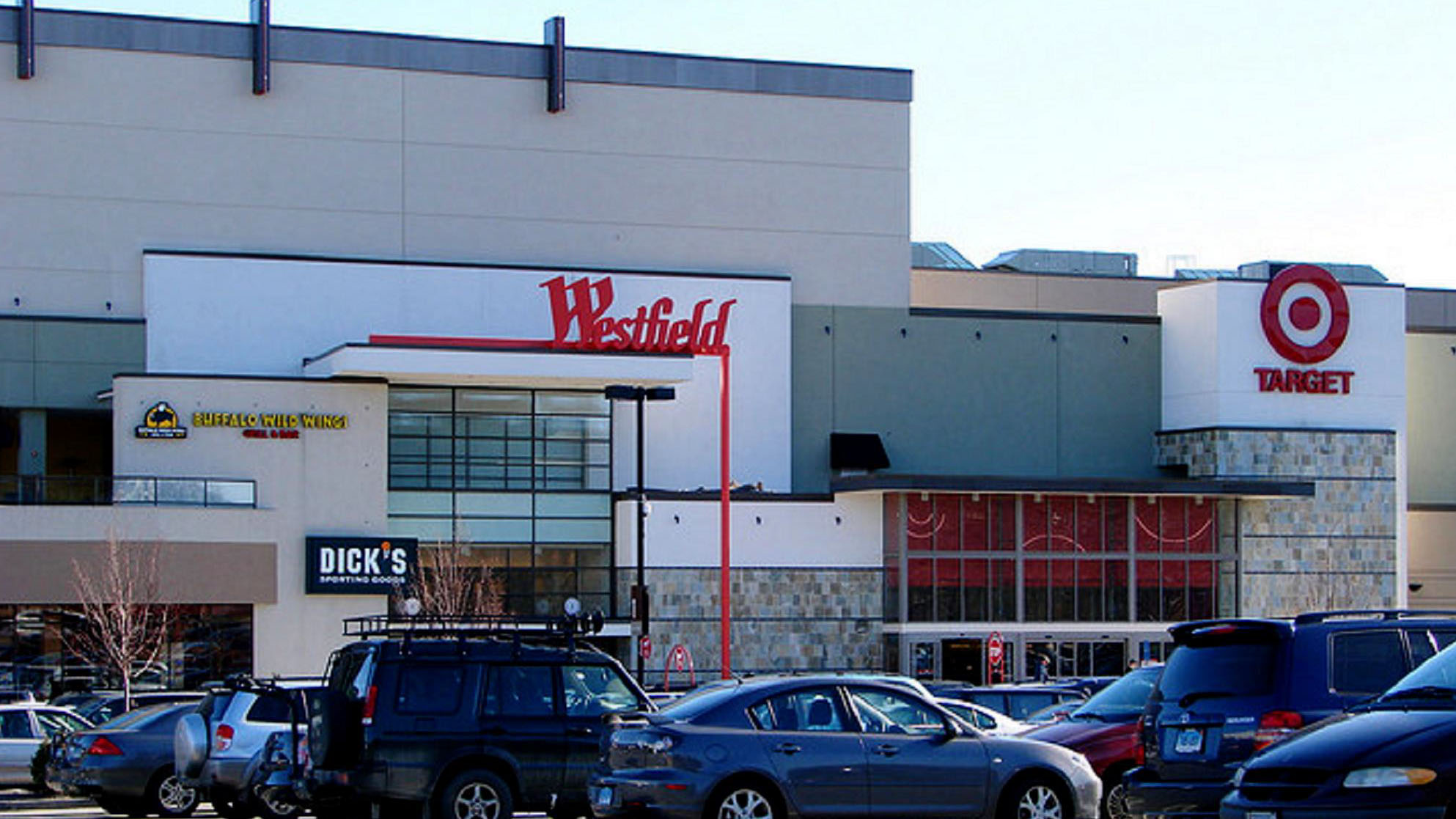 Dallas-based Centennial Real Estate Co., Montgomery Street Partners, the real estate investment affiliate of Blum Capital Partners and USAA Real Estate Co., closed on a $1.1 billion acquisition of five regional malls from Westfield Corp. Centennial will be the managing company responsible for the daily operations of each of the centers. MSP and USAA Real Estate Co. will be financial partners, and Westfield will maintain a minority equity interest. The existing on-site management teams will continue to operate the properties under Centennial's direction. The transaction closed on December 18, 2015.

The portfolio features more than six million square feet of retail space across four states. With an average occupancy of more than 97%, the properties are Connecticut Post Mall in Milford, CT (pictured); MainPlace Mall in Santa Ana, CA; Hawthorn Mall in Vernon Hills, IL; Fox Valley Mall in Aurora, IL; and Vancouver Mall in Vancouver, WA.

According to Steven Levin, Centennial Real Estate's chief executive officer, "the partners in this transaction bring exceptional real estate expertise, and together they intend to capitalize on the many unrealized opportunities at each of these locations. Our goal is to provide a community hub and destination complete with the best available options in shopping, dining and entertainment." The five-center acquisition advances Centennial's promise to reinvest in and revitalize U.S. retail hubs and surrounding communities. Each property will be evaluated to ensure that it is meeting the wants and needs of each local market and the shoppers it serves.

Centennial will implement marketing and leasing efforts that align with each mall's commitment to offer a current and unique mix of retail, dining, entertainment and special events for the local community. According to Levin "A mall can't just be about shopping anymore. Understanding the needs of your market is the cornerstone of creating a one of a kind experience that guests can't get online or anywhere else."

According to a Westfield Corporation press release, Co-CEO Peter Lowy said, "Our strategic focus is to create and operate flagship assets in leading markets and divest non-core assets." This transaction "marks a significant milestone in our divestment strategy. Proceeds from the transaction will initially reduce gearing and will be redeployed over time into our $11.4 billion development program. Our investment program is almost entirely weighted toward our Flagship assets with estimated development yields in the range of 7-8% and is expected to create significant long-term value and earnings growth for securityholders." Westfield Corporation will retain a 20 percent non-managing common equity interest in the properties.


---
Single-Tenant Grocery is Hot

Grocery is the new hot asset class for single-tenant investors, especially for who are willing to take on the potential future risk of a big box retail space vacancy. As reported in November by GlobeSt.com, Sands Investment Group sold four single-tenant grocery stores in two separate transactions that totaled $47 million. While these sales and many others show the investor appetite for grocery-occupied single-tenant properties, they also reveal that sellers are recognizing the market conditions and taking advantage of the good timing.

Investors have really turned to the daily needs concept, which includes food, prescription drugs and things of that nature, and grocery stores fall under that category of daily needs. A lot of investors believe that it is a subsector within commercial real estate that has a much less likelihood of becoming obsolete with technology.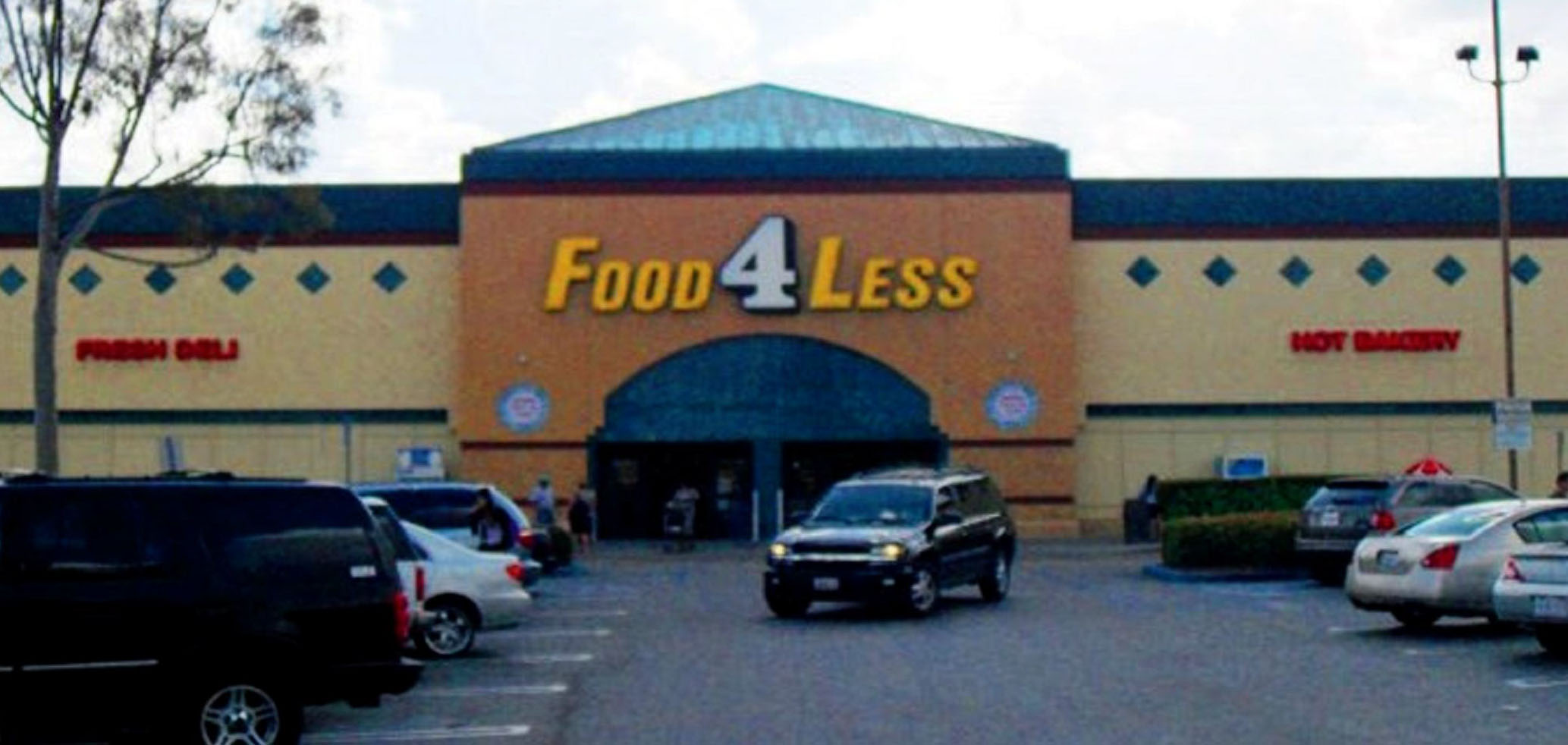 The four sales included a Food 4 Less single-tenant building in Stanton, CA, which traded for $18.5 million ($228 per square foot) between private investors Katella 111 Partners and Safco Capital Corp. The second transaction was a three-property portfolio sale in Oklahoma that traded hands for $28.6 million between an unnamed REIT and Ladder Capital Finance. Sands Investment Group represented the seller in both transactions.

In the Food 4 Less sale, the owner looked at the market conditions and decided to sell the asset and move the capital into multifamily, an asset class with which the seller was familiar. The seller recognized the risk of potentially owning this asset for the remaining base term. The store is an 81,000-square-foot box, and if it goes vacant, based on the rent that they are paying, there could be a scenario where the owner would have to back fill the property. Sands was able to show that the market was allowing for a low cap rate, so the seller could redeploy the equity that had built up in this asset into another opportunity. The seller purchased two multifamily properties with the proceeds from the sale, and has almost doubled cash flow by completing the transactions.

Similarly, in the portfolio transaction in Oklahoma, the seller felt this was the perfect time in the market to dispose of assets that were non-core assets in its portfolio. In this case, the REIT owns grocery-anchored shopping centers, not single-tenant grocery. The owner decided that it would be beneficial to show the market that they are only grocery-anchored owners and that they don't mix into different categories, and decided to sell off everything in their portfolio that doesn't fit directly into the category of grocery-anchored shopping centers.

These are groups that might not necessarily be sellers, but for one reason or another, if they have a reason to sell, they are looking at the market and saying, "now is the time." However, there were some challenges with the transaction, including the fact that the rents were flat through the option period. A lot of buyers out there have a hard time buying a property when they are never going to have rent increases for 17-18 years, as in this case.

Additionally, the properties were located in secondary markets, and although the retail sales were strong, the location ruled out institutional buyers. The benefit of these properties was that they had a higher yield than other types of single tenant retail, like for example a drugstore property. Even with the challenges, the brokerage team still received multiple offers for the sale. In both of these transactions, the sellers do not typically dispose of assets. In many cases with grocery anchored retail, the real estate firms approach owners when they see an opportunity and demonstrate the value opportunity of selling.


---
What the Top Malls Have in Common: Apple

For retailers, finding a prime piece of real estate for their next store may not be too difficult; they just need to find a spot near Apple. In October, Goldman Sachs released its list of the top 100 malls in the U.S., which included 16 new additions. Among the premier properties, 75 percent are home to an Apple store, up from 69 percent last year. That compares to just 14 percent of all malls that count the tech behemoth as a tenant, the report found. But the percentage of Apple stores was not the only thing on the rise. According to Goldman, the average sales per square foot at the top 100 locations also increased, to $792 from $773.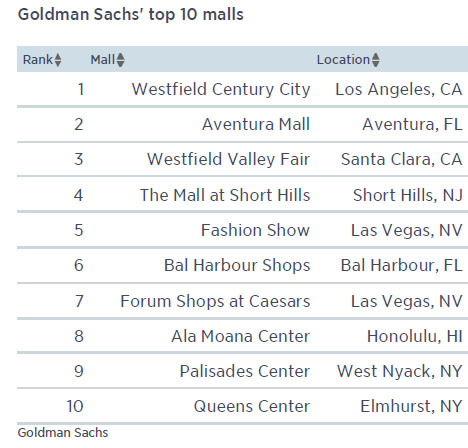 Because fewer retail properties are being built, competition has been intense for space at the country's best malls, allowing landlords to charge higher rents. Goldman's analysts based their ratings on eight factors, including the malls' sales per square foot, the area's population and tourism volumes. The firm noted that although mall traffic has fallen 13 percent over the past three years, certain properties are less susceptible to changing consumer preferences.

"Though discretionary spending has been shifting online, select malls have retained traffic as consumers are still attracted to specific locations, offerings and experiences," the report said. Among department stores, which have traditionally served as so-called "anchor" shops designed to lure shoppers to a particular property, Macy's topped Goldman's list with 85 stores in the top 100 malls largely because of the fact that, combined with its Bloomingdale's nameplate, it has more than 800 locations.

When breaking down department stores' presence in the top malls by percentage, Neiman Marcus and its Bergdorf Goodman brand once again topped the list, with 49 percent of its 43 stores in these premier locations. Nordstrom, which boasts 118 full-line stores, came in a close second, and narrowed the gap from last year. In 2014, Nordstrom only had 40 percent of its locations in the top malls, compared with Neiman's 49 percent. Neiman Marcus and Nordstrom were followed by Saks, which has 32 percent of its store base in the top 100 malls, and then Macy's, with 11 percent.


---
Recent Transactions

Nationwide, transaction volume for good quality retail properties continues to be strong. Here's a look at some of the recent deals:

In December 2015, Kimco Realty Corp. (NYSE: KIM), North America's largest publicly-traded owner and operator of open-air shopping centers, announced that it purchased an 850,000¬square-foot destination power center in the Phoenix-Mesa-Scottsdale, Ariz. metropolitan statistical area (MSA) for $115.3 million. The property, situated one mile east of Interstate 17, is accessible by more than a dozen points of ingress/ egress and lies adjacent to the second-busiest light rail station in Phoenix. Christown Spectrum is 94% occupied and is located at the dominant and highly trafficked (97,600 ADT) retail corner of West Bethany Home Road and North 19th Avenue in one of the most densely populated areas in the Phoenix metro, with a population of 437,000 within a 5-mile radius. It is anchored by a Wal-Mart Supercenter, Costco and SuperTarget; the only center in the U.S. to boast all three retailers. Supplementing the three main anchor tenants are several national and/or investment grade retailers such as Walgreens, Ross Dress for Less, PetSmart, Dollar Tree, Bank of America, Famous Footwear, GNC, Bath & Body Works, Supercuts, Taco Bell, Carl's Jr. and Wingstop Restaurant. The property offers various redevelopment and value creation opportunities including several below-market ground leases, the development of numerous pads and the expansion of leasable square footage.
In December 2015, the Shops at Bear Valley retail center in Victorville CA was sold by Invest West Financial Corp. for $9.8 million at a closing cap rate of 5.63%. The 32,000-square-foot property is 95% leased to a tenant mix that includes McDonald's, Fitness 19, Schools First Credit Union, KinderCare. Shaun Riley, senior managing director with Faris Lee Investments, represented the buyer and the seller in the transaction.
In December 2015, a New York investment firm paid $59.9 million for two Louisiana shopping centers. Hammond Aire Plaza at the corner of Airline and Old Hammond highways and Prien Lake Plaza in Lake Charles, LA. The sale documents, filed with the parish Clerk of Court's office, show Kimco Baton Rouge 1183 LLC, Texas-based Prien Lake Dunhill LLC, and Prien Lake Outparcel LLC, of Delaware—all representing the real estate investment trust Kimco Realty—sold the properties to G&I VIII Hammond LLC, representing DRA Advisors LLC. Hammond Aire Plaza sits on about 18.5 acres, and features several clothing and apparel retailers, including Burlington Coat Factory, Marshalls and Stein Mart. Not included in the sale was the Albertsons supermarket in the Hammond Aire Plaza, which was not owned by Kimco. Prien Lake Plaza sits on nearly 16 acres at the corner of West Prien Lake and Nelson roads in Lake Charles. The shopping center is anchored by Ross, Marshalls and Bed, Bath & Beyond. A Target store in that shopping center was also not part of the sale.
In December 2015, New York City-based Time Equities bought three Wisconsin retail centers for $16.8 million. These included the 95,042-square-foot Oak Creek (WI) Centre; the 110,855-square-foot Park Plaza, in Manitowoc WI; and the 87,680-square-foot Taylor Heights Shopping Center, in Sheboygan WI. The seller was a private institutional investor.
In December 2015, Burbank Station, a shopping center just south of Midway International Airport, sold for almost $52 million, bringing a big return to the investors who bought it three years ago. Star Lake Fund, a fund of the New York Common Retirement Fund and New York-based J.P. Morgan Investment Management, paid $51.9 million for Burbank Station, a fully leased, 309,860-square-foot shopping center at 7700 S. Cicero Ave. in Burbank IL, according to Cook County property records. The recent sale price is 53 percent higher than the $34 million the sellers paid in 2013.
In December 2015, the Chambersburg Crossing shopping center in Chambersburg PA sold for $45 million. According to the recently recorded deed, Chambersburg MZL LLC, an affiliate of Katz Properties of New York, on Dec. 21 purchased the 50-plus-acre shopping center on Norland Avenue from Chambersburg Crossing LLC. The buyer will continue to operate it as a dominant shopping center, and will be working to bring additional tenants to the outparcels there. Giant supermarket, Kohl's, Michaels, Staples and PetSmart anchor Chambersburg Crossing. The 270,000-square-foot shopping center opened in 2007. The neighboring Target previously purchased its building from Kimco, who developed the shopping center.
In November 2015, East Gate Square, a 772,000 square foot regional center in Moorestown NJ, sold for $190 mil. An affiliate of M&J Wilkow Properties and USAA Real Estate Co. bought the property from an affiliate of Equus Capital Partners. Dick's, PetSmart, Kitchen Kapers and Pier 1 Imports are some of the tenants in the complex. The property is one of the biggest retail centers in the region and consists of six distinct structures on 100 acres straddling Mount Laurel and Moorestown. The complex was constructed in phases by Equus between 1994 and 2002. In 2006, the property was put up for sale and many thought it would sell for over $200 mil. CBRE represented Equus in the transaction.
In October 2015, Inland Real Estate Income Trust, Inc., acquired Settlers Ridge, a 472,572-squarefoot retail center in Pittsburgh, Pa., and Milford Marketplace, a 112,257-square-foot retail center in Milford, Conn., from O'Connor/Real Vest Retail Holding Co. L.L.C. for a reported $174 million. Located at 200 Chestnut Ridge Drive, the Settlers Ridge acquisition represents the largest shopping center purchase in Pittsburgh in more than two years. The center was originally completed in 2012 and is home to 40 tenants, including Cinemark, LA Fitness, Barnes & Noble, Michael's, Ulta Beauty, Panera Bread, P.F. Chang's China Bistro and Cadillac Ranch. It is currently 98.5 percent occupied. Located at 1650 Boston Post Road, Milford Marketplace was constructed in 2007 and is anchored by Whole Foods. Other tenants include Banana Republic, Chico's, People's United Bank, J. Jill and Justice.
---
AVG Presenting at 2016 IPT Annual Conference

American Valuation Group, Inc. announced that Mark T. Kenney, MAI, SRPA, MRICS, MBA, President of American Valuation Group, Inc. has been invited to jointly make a presentation entitled "Reverse Tax Appeals" at the 2016 Institute for Property Tax Professionals' (IPT) Annual Conference to be held in June 2016 at the Grand Traverse Resort in Traverse City, MI. He will be presenting along with Bruce Stavitsky, Esq.

In addition to national department store and big box tax appeal experience, American Valuation Group, Inc. was retained for appraisal and litigation support services involving the King of Prussia Mall, Mayfair Mall, Palisades Center, Westfield Trumbull Mall, Eden Prairie Center, The Maine Mall, Landmark Mall, Coral Ridge Mall, Glenbrook Square mall, River Ridge Mall, Quaker Bridge Mall, and Plymouth Meeting Mall tax appeal litigations. Mr. Kenney also appraised and consulted on the Mall of America, the largest mega-mall in the U.S. Mark T. Kenney, MAI, SRPA, MRICS, MBA, President of American Valuation Group, Inc., is the author of "Business Enterprise Value: The Debate Continues," and other shopping mall articles that appeared in The Appraisal Journal, a leading industry journal published by the Appraisal Institute.

American Valuation Group, Inc. is a leader in the appraisal of shopping malls and shopping centers, and specializes in property tax appraisal and litigation support nationwide.


---