---
In This Issue:

Mall Anchor Market Continues Evolution
Single-Tenant Retail is Red Hot
Will Higher Interest Rates Impact Cap Rates?
Recent Transactions
AVG Presenting at 2016 IPT Annual Conference
---
Mall Anchor Market Continues Evolution

The retail industry is constantly in flux, and the mall anchor market is no exception. Several reasons are cited as causing growing pressure for the emergence of alternative uses. The number of households living below the poverty level has doubled since 2008, according to the U.S. Department of Agriculture's Food Stamp Program, and, with that, disposable income has decreased. Off-price chain retailers such as Ross Dress for Less, Marshalls and T.J. Maxx, as well as high-volume, rock-bottom-priced, trendy upstarts such as H&M, Forever 21, and now Primark, are growing their footprints. Department stores that are the traditional mall anchors tend to have higher prices, and consumers are looking for the best deals at the lowest prices.

As a result, the enclosed shopping mall, as we know it, also is at a crisis point, between these hurdles and constantly growing online competition. The structural pressures facing malls should show no signs of abating. However, many experts argue that doesn't mean all department store anchors will close. Brick and mortar stores provide an experience that e-commerce cannot, so the challenge for real estate owners and developers becomes figuring out the right mix of traditional and alternative uses.

The new norm has been difficult for the former mall anchor titans, whose presence continues to fade nationwide. Sears has closed 152 mall stores since 2007. Penneys closed 40 locations in 2015 alone. Meanwhile, Macy's plans to shutter up to 40 stores in the early part of this year, with the majority of those locations being at shopping malls. This is a continuation of a market trend producing in 2016 what many see is a strong market for merger activity, especially in the regional markets. Fifteen years ago, there were 20 department store brands anchoring U.S. malls, and now there are eight. The result of past industry consolidation, most notably when Macy's (then Federated Department Stores) merged with May Co. ultimately eliminating many well known chains.

According to a recent real estate consultant Green Street Advisors LLC report, there are some three dozen elite, very high-performing U.S. malls rated A++. King of Prussia Mall in PA is ranked among them. A "trophy mall" such as King of Prussia generates $975 in sales per square foot and has a 94 percent occupancy, according to Green Street. About 270 high-performing malls, such as Cherry Hill Mall in NJ, have A ratings. In comparison, Cherry Hill Mall generates $621 in sales per square foot and has 95 percent occupancy.

But standing in contrast to those high-achievers are more than 700 U.S. malls with lower grades, according to Green Street. It is within this market segment that department-store anchors have had the most difficulty, according to industry analysts. Macy's, Neiman Marcus, Lord & Taylor, among others, are adding stores that are not on the mall. They are all moving to off-price formats because stores like T.J. Maxx and Ross are very effectively competing against them. In terms of sales and margins, the discounters are grabbing market share by offering brands at a lower price because they have lower costs.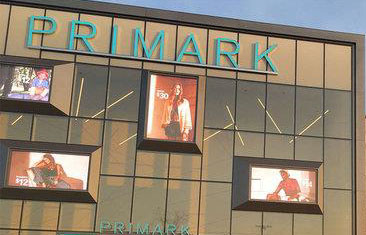 Even at a premier mall U.S. market newcomer Dublin, Ireland-based Primark took over 80,700 square feet of space that once belonged to Sears in a King of Prussia store that opened Nov. 25. Primark sells apparel, accessories, and home goods at super-low prices, and has six leases in East Coast malls at other Sears brick-and-mortar locations. There are other examples in which Sears has rented out space to other retailers, including Whole Foods, Dick's Sporting Goods, Nordstrom Rack, Forever 21, Field & Stream and Aldi, to bring in new revenue. The closure of mall anchors is likely to continue, and struggling retail chains will try to improve their market positions. To survive, traditional department stores are expanding into new outlet-center formats, off-price divisions, off-the-mall concepts and smaller urban store formats. Time will tell if their omni-channel efforts will be successful.


---
Single-Tenant Retail is Red Hot

According to The Boulder Group's The Net Lease Market Report, cap rates in Q1 2016 for the single tenant net lease retail and industrial sectors reached new historic low average rates of 6.18% and 7.10%, respectively. During the same timeframe, cap rates for the office sector increased by 20 basis points to an average cap rate of 7.20%. According to The Boulder Group report, cap rates for retail assets continue to decline and trade at much lower cap rates than that of net lease office and industrial properties due to their preference by private and 1031 buyers. Private and 1031 buyers are more familiar with retail tenants, prefer the lower price points and understand the general business practices of these tenants when compared to industrial or office tenants.

As demand continues for the net lease sector, supply has continued to remain constrained. Overall supply of the net lease sector compressed by approximately 3% in the first quarter of 2016 when compared to the previous quarter. New construction properties remain in lower supply as the construction pipeline remains limited when compared to previous years. According to The Boulder Group's report, new construction properties are in the highest demand because they typically have the longest lease term.


Accordingly, cap rates in the first quarter for recently constructed properties tenanted by AutoZone, DaVita and Fresenius compressed by 40, 50 and 25 basis points, respectively. The limited supply has kept cap rates low for all three sectors despite the volatility in the 10-year Treasury note rate over the past year.

According to The Boulder Group, the net lease market is expected to remain active in 2016 as investor demand and allocated capital for this asset class remains strong. With the volatility of the 10-year "T" rate effecting capital markets, investors will be monitoring the capital markets and adjusting their bids accordingly. Private and 1031 investors will be less effected by the volatility of the financing markets than institutional investors. This can be attributed to their acceptance of lower returns due to their 1031 timing and tax consequences.


---
Will Higher Interest Rates Impact Cap Rates?

Cap rates are influenced by "a wider network of variables beyond interest rates," including real estate fundamentals, capital flows and investor risk appetite, according to a report by TIAA¬CREF Asset Management. Thus, the impact of rising interest rates on real estate performance is difficult to predict. "Indeed, the outlook for real estate in a rising rate environment depends on a variety of factors specific to the current and expected economic and property market environments."

While the report acknowledges that fears that the eventual rise in interest rates will result in higher cap rates and declining property values "seem reasonable," in fact these anxieties "oversimplify and ignore variables that have the potential to offset value declines." It cites a number of factors that can protect overall property performance in a rising interest rate environment, such as the spread between cap rates and 10-year Treasury yields.

The current cap rate spread, for instance, is just over 300 basis points, about 30 bps higher than the long-term historical average of 270 bps. "The extra spread can absorb a small increase in 10-year Treasury yields and/or a further reduction in cap rates before property values are affected," according to the report, and therefore can be seen as a "a slight protective buffer" from the expected rise in interest rates.

TIAA-CREF also sees some protection in common underwriting practices. Property valuations usually assume a holding period increase of 50 to 100 bps in the "terminal" cap rate over the initial "going-in" acquisition cap rate, and therefore cap rate increases are typically accounted for in return expectations. Accordingly, the report says, "investors should not fear cap rate increases that they expect, only the ones that they do not anticipate."

The timing of cap rate changes also has an effect. "In the near term, cap rate increases can have a dramatic impact on property performance," the report states. "Yet real estate performance is less sensitive to cap rate changes as the investment horizon lengthens. Time has the potential to heal most, but likely not all, wounds from rising cap rates through the magic of compounding annual NOI growth rates."


---
Recent Transactions

Nationwide, transaction volume for good quality retail properties continues to be strong. Here's a look at some of the recent deals:

In March 2016, Forest City Realty Trust sold the 366,000-square-foot Avenue at Tower City Center, in Cleveland, to Bedrock Real Estate Services for $56.5 million.
In March 2016, RW Partners, LLC, of Phoenix, paid $32.1 million for The Plaza at Cape May Court House (N.J.), a 164,000-square-foot supermarket-anchored center that had been owned by Polimeni International LLC.
In March 2016, a 1031 exchange investor paid Gatlin Development, of Ft. Lauderdale, FL, about $26 million for a 20-year, absolute-net ground lease under a nearly 190,000-square¬foot Walmart Supercenter in Ft. Lauderdale.
In March 2016, Macy's in Mission Valley was purchased by The Westfield Group, the owner of the mall it anchors, for $16.5 mil. What the acquisition means for the future of the store is unclear. The move comes during a drop in profits for Macy's because of competition from online shopping and other factors. Macy's announced in January it would close 40 of its 770 stores. The retail giant has signed a lease to stay in Westfield Mission Valley until January 2017, but a Macy's declined to say what would happen after that. San Diego's Historical Resources Board classified the 55-year-old building as historic in January because of its role in the growth of Mission Valley and its notable architect. The designation would stop Westfield from razing the building. In February, Macy's filed an appeal with the city, according to the city's database of historic properties, which is still pending. The 363,000 square foot building was built by the May Company in 1961. The May Company store, eventually becoming a Robinsons store, was turned into a Macy's in 2005 after the Macy's-May merger.
In February 2016, Bowles Crossing, a shopping center in Jefferson County, CO was sold to Phoenix-based commercial real estate company Vestar for $76 million. The shopping center, located at 8055 W. Bowles Ave., is anchored by an AMC Theater and recently became home to Trader Joe's. Vestar plans to expand Bowles Crossing with new retail, restaurants and a multifamily component.
In February 2016, Drexeline Shopping Center, a 265,825-square-foot property on 18.5 acres at Route 1 and State Road in Upper Darby, PA, sold for $30 million. MCB Real Estate from Baltimore is the buyer. The property is a retail destination and institution in Upper Darby. It was developed in 1950 by the Seegul family, who were also the sellers. The center is anchored by ShopRite, CVS, and Wells Fargo, and has many local tenants. The center was put up for sale a year ago. Jim Galbally of JLL arranged the transaction.
In January 2016, Owensboro Towne Center, a shopping center in Owensboro KY anchored by Target, was sold to Arizona-based Cole Credit Property Trust IV Inc., a division of VEREIT Inc, formerly American Realty Capital Properties, for $23.2 million. The seller, Stonemar Properties LLC, paid $19 million for the 246,672-square-foot retail center in 2006. CCPT IV was interested in this property due to its 100 percent occupancy, location and quality tenant line-up. The new owners intend to continue operating the center as is. Target, Malco Cinema, Cracker Barrel, Pier 1 Imports, Lifeway Christian Store and O'Charley's were not included in the transaction. Most of the property was developed in 1996-97 by the Robert K. Carlin Co. of Dallas.
In January 2016, Retail Properties of America, Inc. announced that it closed on the acquisition of a two-property portfolio, which included Merrifield Town Center II ("Merrifield II") and Shoppes at Hagerstown, both located in the greater Washington, D.C./Baltimore area. The properties were acquired through an off-market transaction, on an unencumbered basis, for a combined purchase price of $72.7 million. Merrifield II was acquired for a gross purchase price of $45.7 million. The 138,000 square foot property currently consists of 76,000 square feet of retail space and 62,000 square feet of storage on 8.2 acres of land. The property is located in Falls Church, VA adjacent to Merrifield Town Center ("Merrifield I"), which RPAI acquired in January 2015. The buyer plans to redevelop the property into a mixed-use project that will be integrated with Merrifield I and serve as a complement to the adjacent Mosaic District, a 31acre mixed-use, urban-centric project comprised of retail, office, residential and hotel uses. Shoppes at Hagerstown was acquired for a gross purchase price of $27.0 million. The property is a 113,000 square foot power center that is currently 93.0% occupied and leased to a mix of national tenants including Best Buy, Party City, Dollar Tree, Five Below and Starbucks. Located in Hagerstown, MD, Shoppes at Hagerstown is a regional draw and situated in a main retail corridor with visibility from the main interchange, I-81.
In January 2016, Federal Realty Investment Trust announced the company bought out its partner in an 820,000-square-foot portfolio of six shopping centers. The Rockville, Md.–based REIT will acquire the 70 percent ING Clarion stake for $154 million, including assumed debt. Federal Realty and ING Clarion formed their venture in 2004. The portfolio includes Atlantic Plaza and Campus Plaza, in Boston; Greenlawn Plaza, on Long Island, near New York City; and Barcroft Plaza, Free State Shopping Center and Plaza del Mercado in the metro Washington, D.C., area.
In January 2016, Phoenix-based Cole Real Estate Income Strategy purchased the nearly 150,000-square-foot Home Depot center, in Orland Park, Ill., from an Ohio-based REIT for $20 million.
---
AVG Presenting at 2016 IPT Annual Conference

American Valuation Group, Inc. announced that Mark T. Kenney, MAI, SRPA, MRICS, MBA, President of American Valuation Group, Inc. has been invited to jointly make a presentation entitled "Cherry Picking: Actions by Taxing Authorities to Increase Assessments on Unsuspecting Taxpayers" at the 2016 Institute for Property Tax Professionals' (IPT) Annual Conference to be held in June 2016 at the Grand Traverse Resort in Traverse City, MI. He will be presenting along with Bruce Stavitsky, Esq. and Gregg Manzione, MAI.

In addition to national department store and big box tax appeal experience, American Valuation Group, Inc. was retained for appraisal and litigation support services involving the King of Prussia Mall, Mayfair Mall, Southlake Mall, Palisades Center, Westfield Trumbull Mall, Eden Prairie Center, The Maine Mall, Landmark Mall, Coral Ridge Mall, Glenbrook Square mall, River Ridge Mall, Quaker Bridge Mall, and Plymouth Meeting Mall tax appeal litigations. Mr. Kenney also appraised and consulted on the Mall of America, the largest mega-mall in the U.S. Mark T. Kenney, MAI, SRPA, MRICS, MBA, President of American Valuation Group, Inc., is the author of "Business Enterprise Value: The Debate Continues," and other shopping mall articles that appeared in The Appraisal Journal, a leading industry journal published by the Appraisal Institute.

American Valuation Group, Inc. is a leader in the appraisal of shopping malls and shopping centers, and specializes in property tax appraisal and litigation support nationwide.


---