---
In This Issue:

King of Prussia Mall Expansion Underway
Sears Eyes Sale-Leaseback to new REIT
Retail Investment Sales to Surpass Last Year
Drug Store Cap Rates Hit A New Low
Recent Transactions
---
King of Prussia Mall Expansion Underway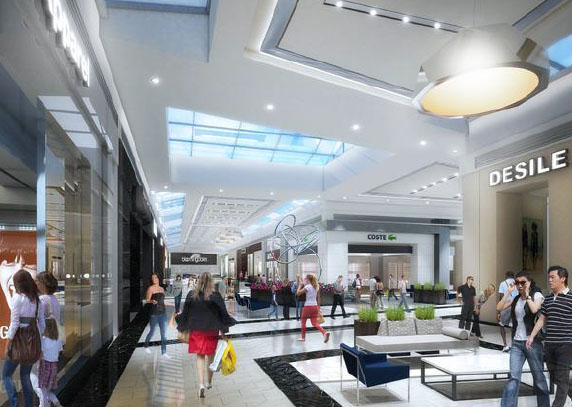 Simon Property Group, the Indianapolis-based retail giant that owns 200 plus shopping malls nationwide, is sacrificing more than 400 parking spaces at its King of Prussia Plaza and Court to make room for at least 50 new stores and restaurants that it hopes will draw more wealthy shoppers to the region's biggest retail complex. At extra large shopping centers such as King of Prussia, the mall business is good, contrary to some news reports of the mall industry's demise.

Simon bought out other investors to take control of the King of Prussia mall in 2011, in deals that valued the complex at over $1 billion. The company expects to attract luxury stores from outside the region and the best of the Philadelphia eateries to the new space, rather than shifting current tenants there.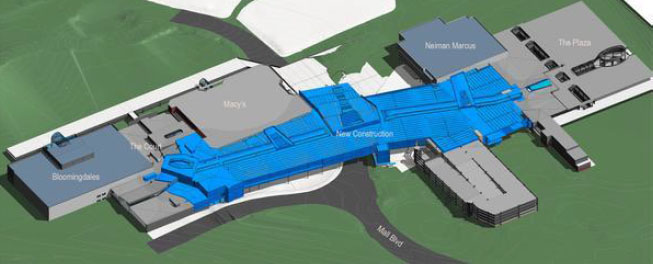 The estimated $150 million expansion will add 155,000 square feet taking the existing 2.65 million-square-foot mall and bring it to 2.8 million square feet. The expansion will bring the total number of stores from 450 to 470. It will also mean more jobs, as Simon estimates the expansion will create between 300 and 400 new positions at the mall. The mall generates $1 billion in sales annually now and the expansion is expected to add on another $100 million.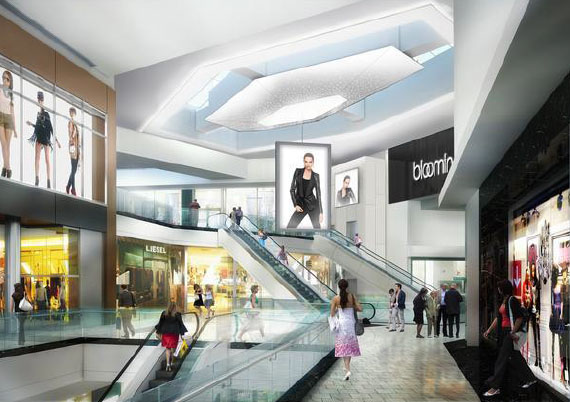 Work began this year to prepare for tearing down the parking deck next to Neiman Marcus and adding 155,000 square feet of new stores and restaurants. Besides the new enclosed area, which will connect the existing Neiman Marcus, Macy's, and Bloomingdale's department stores, Simon plans a replacement parking deck with valet parking areas, digital sensors that will post the number of vacant spaces available, and ramps designed to speed traffic in and out, among other amenities. The project will reduce total parking spaces at the center to 12,728 from 13,199. Upper Merion Township says the King of Prussia complex attracts about 25,000 shoppers a day, ballooning to 125,000 at the height of the holiday shopping season.

Simon reports this is one of 31 U.S. mall improvement projects to which it has committed a total of $1.7 billion this year. Simon also owns the newly renamed Philadelphia Mills complex in Northeast Philadelphia, the new Gloucester Premium Outlets in South Jersey, and Montgomery Mall, where Simon recently replaced an empty department store with a Wegmans grocery, among others.

In a conference call with investors last month, David Simon, Simon Property Group's chairman and chief executive, said his company needed agreement from Sears before finalizing its King of Prussia expansion plans. Sears last month announced the closing of its King of Prussia store, which it has leased to Dick's Sporting Goods and the Ireland-based Primark department store chain.

---
Sears Eyes Sale-Leaseback to new REIT

Cash-strapped Sears Holdings Inc. (SHLD) said in a regulatory filing in November that it was considering spinning off between 200 and 300 owned stores via a sale-leaseback to a newly formed REIT. Such a transaction could produce "substantial proceeds" for the retailer, which also said that it was expecting to report what would be its ninth consecutive quarter of losses. Concurrent with the sale-leaseback, if it does occur, SHLD would grant its shareholders the right to purchase shares of common stock or other equity interests of the REIT. The rights offering would fund a portion of the purchase price for the stores, with the balance from mortgage or other debt financing.

The company has already commenced a rights offering of up to $625 million in aggregate principal amount of 8% senior unsecured notes due 2019 and warrants to purchase shares of common stock on a pro rata basis. It follows SHLD's previous announcement that it would sell part of its stake in Sears Canada through a rights offering, through which it expects to raise about $380 million.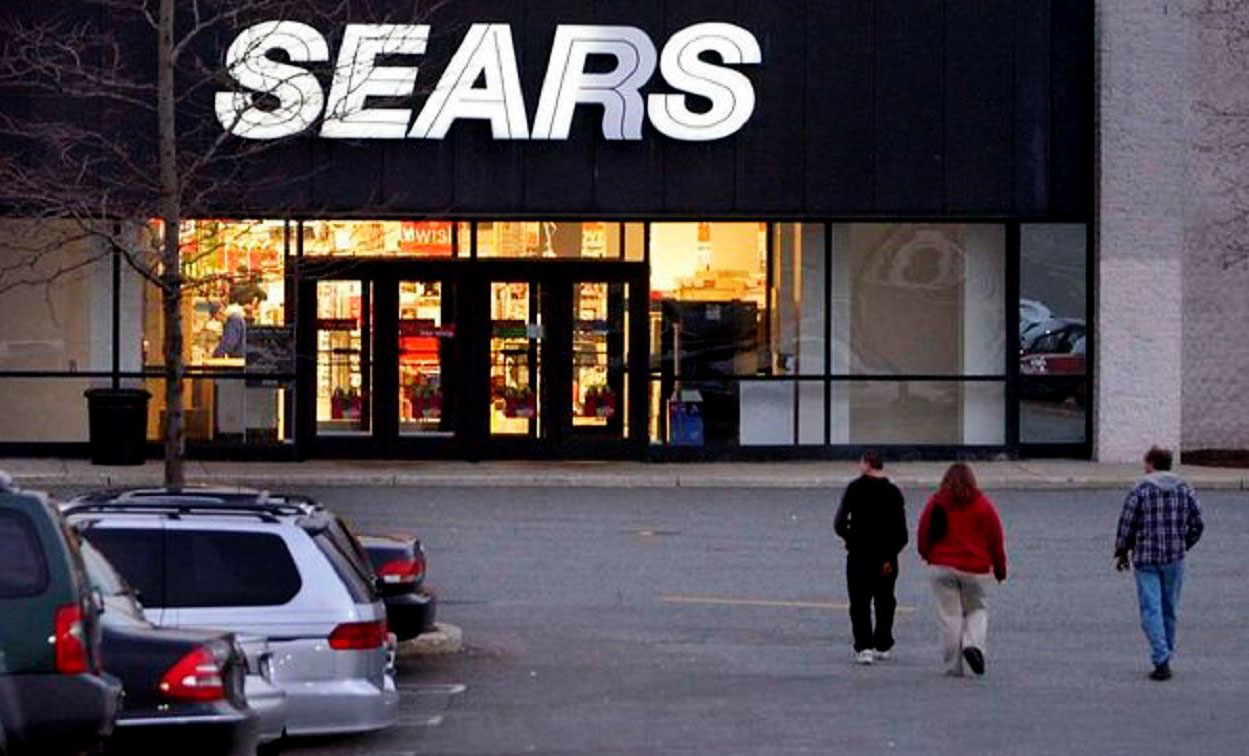 With same-store sales expected to be flat year-over-year for the third quarter, SHLD, which owns the Sears and Kmart brands, is turning to other avenues to increase liquidity. It has borrowed from funds controlled by CEO Eddie Lampert, and last month said it would lease a total of about 520,000 square feet of space to European fashion retailer Primark for seven standalone stores that would roll out over the next 12 to 18 months. In the first of these stores, scheduled to open at King of Prussia Mall in suburban Philadelphia, Sears would no longer have a retail presence.

Additionally, SHLD, Macy's (M) and J. C. Penney (JCP) each have sold their stores at Vallco Mall in Cupertino, CA to an affiliate of Sand Hill Property Co., based in nearby Menlo Park, which seeks to redevelop the 1.3-million-square-foot shopping center. The combined purchase for the three locations was about $200 million, according to published reports; SHLD's SEC filing said it would receive $102.5 million of that total. In common with JCP, SHLD plans to close its Vallco location.

---
Retail Investment Sales to Surpass Last Year

Sellers of retail properties had a merry holiday season, as both transaction volume in the sector and price per square foot continued to increase in the fourth quarter 2014. Through November, retail investment sales have already reached $42.7 billion, according to data compiled by Washington, D.C.-based research firm CoStar, up almost 13 percent from $37.8 billion in sales recorded last year. CoStar estimates that based on historical levels of activity, sales volume in the fourth quarter of this year will total approximately $16.8 billion, an uptick of $3 billion compared to the fourth quarter of 2013.

Real Capital Analytics (RCA), a New York City-based research firm, reports similar patterns in the investment sales market for retail properties. Although sales volume this November dipped 14 percent below last year's level, at $5.9 billion, that was likely due to a shorter month in 2014, RCA reports. The sales volume from January through October was already above the total for 2013. RCA estimates that year-to-date in 2014 retail investment sales volume reached approximately $73.1 billion.

Real estate investors are rotating back into retail due to its higher yields relative to other property types, and also due to improving fundamentals, according to CoStar. This has boosted both liquidity and pricing. In dollar terms, the market has never been as liquid as it is today. With fundamentals tightening and lending standards loosening, 2015 activity will come in even more aggressively and could be a record year for retail investment.

As widely reported, prices on retail assets have continued to increase in 2014, while cap rates have remained low. According to CoStar data, the average price per square foot for retail properties currently stands at $186 per square foot, up $40 compared to price per square foot at the end of 2013. RCA figures show that the average price per square foot in November was $195 per square foot, compared to $180 per square foot at the end of last year.

According to CoStar's Repeat Sale Index, which analyses transactions involving the same property, the average price of retail assets went up 9.7 percent this year, after spiking 15.4 percent in 2013. This represents a sustained increase in the market so that by the end of 2014, the year-over-year price increase may reach the mid-teens once again. The average cap rate on retail transactions this year has stayed below 7 percent, dipping to 6.7 percent in November. The last time cap rates on retail properties were this low was in February 2008, according to RCA data. The new average is 20 basis points below the level recorded at year-end 2013.

---
Drug Store Cap Rates Hit A New Low

Cap rates for net lease properties have been falling for quite some time, often hitting historic lows, but investors find few sectors as appealing as drug stores. And according to the most recent report from the Boulder Group, a commercial real estate services firm located in suburban Northbrook, IL, in the third quarter of this year cap rates for many top drug store brands fell again.

Walgreens cap rates remained stable at their previously reached historic low level in the first quarter of 2014, according to the new report. But cap rates for CVS and Rite Aid properties sank 15 basis points and 35 basis points (1 basis point = 0.01%), respectively, since hitting their own historic lows in the first quarter. The Walgreens rate now stands at 5.6%, with CVS at 5.75% and Rite Aid at 7.4%. 1031 exchange buyers and private investors remain the primary buyers.

According to Boulder, investors are attracted to these properties partly because they are one of the few opportunities with tenants that sign leases of 20 years or more. In fact, although the overall rate for Walgreens properties remained stable, rates for Walgreens properties with more than 20 years of lease remaining compressed by 20 bps to 5.3%.

All of this investor interest has brought significant changes to the market. In the first quarter of 2014, long-term leased Walgreens and CVS properties accounted for 50% of the market compared to 35% in the third quarter of 2014. Walgreens' recent change from 25-year lease terms to 20-year lease terms has left a limited supply of drug stores with more than 20 years left on the lease.

And owners appear ready to take advantage of the current demand. The number of drug store properties on the market increased across all three major tenants by 33% in the third quarter. CVS saw the largest increase, with 74 stores on the market, up from 45 in the first quarter, an overall gain of 64%. "The biggest contribution to the supply of CVS properties is from former zero cash flow properties where the owner has defeased the fully amortizing loan," Boulder's report noted. In 2015, Boulder expects investors' demand for drug stores will not slacken, and transaction velocity in the sector should maintain a pace similar to 2014. Many in the industry believe that pharmacies will always do well, especially since pharmacies are resistant to internet competition, unlike a lot of other retail.

---
Recent Transactions

Nationwide, transaction volume for good quality retail properties continues to be strong. Here's a look at some of the recent deals: Text for the first article. This section includes a bullet-list

In December 2014, it was reported that The Shops at Fallen Timbers, a village-like "lifestyle center" shopping complex that opened seven years ago on a 108 acre site west of U.S. 24 in Maumee, OH, was to be sold. Chicago real estate investment and management firm M&J Wilkow Ltd., which owns 22 retail properties including multiple shopping centers, has a tentative deal to purchase the 640,000 square foot Fallen Timbers. The shopping complex is owned by General Growth Properties Inc. of Chicago, which secured the site in southwest Lucas County in the mid 1990s, but did not construct Fallen Timbers until 2007 and it opened in October of that year. In September 2014, General Growth quietly listed the retail property for sale, according to industry newsletter Commercial Real Estate Direct, which said the property could sell for roughly $30 million, a fraction of its $125 million construction cost. The sale is expected to be completed by year's end. Fallen Timbers, with approximately 90 retail tenants, would be Wilkow's first Ohio property. General Growth had supported Fallen Timbers even during the company's Chapter 11 bankruptcy in 2009. Despite the presence of three anchors — Dillard's, J.C. Penney, and a 14screen Cinemark theater — plus restaurants and other shops, the center has struggled; its vacancy rate declined to 75 percent during the recession in 2009.


In November 2014, it was announced that Knollwood Mall was about to be sold for $106.7 million, while still being in the midst of a renovation. Rouse Properties Inc., the owner, is scheduled to close on the sale Jan. 12, according to the city of St. Louis Park, MN. However Rouse has not yet identified the buyer. Rouse, of New York, broke ground on a $32 million renovation in March. The renovation includes a "de­malling" – a retail trend of removing a mall's interior corridors. Rouse would not comment on the sale, but the CEO announced the price tag during the publicly traded company's third quarter earnings call on Nov. 4.
Rouse transformed an under-productive enclosed mall located in a highly competitive mall market into a premier supermarket-anchored power center. The mall's largest stores are Cub Foods, DSW Shoes, T.J. Maxx, HomeGoods, Old Navy and Kohl's. A Nordtrom Rack signed a lease to open in spring 2015. Knollwood has 463,000 square feet of leasable area.
In November 2014, The Macerich Company (NYSE: MAC) announced closing the acquisition of its joint venture partner's 49% stake in five super regional malls: Queens Center NY, Washington Square OR, Los Cerritos Center CA, Stonewood Center CA and Lakewood Center CA from a wholly-owned subsidiary of the Ontario Teachers' Pension Plan Board. Total consideration was $1.89 billion (USD), including the assumption of $673 million of property-level debt. The balance was funded through the direct issuance to a wholly-owned subsidiary of the Ontario Teachers' Pension Plan Board of $1.22 billion of Macerich common stock at a fixed price of $71 per share, representing a 10.9% common ownership stake in the Company. The real estate portfolio of Ontario Teachers' is managed by its subsidiary, The Cadillac Fairview Corporation Limited. On a sales per-square-foot basis, Queens Center and Washington Square are currently MAC's two most productive assets, both generating sales of over $1,000 per square foot while Los Cerritos Center, which is currently generating nearly $700 per square foot in sales and undergoing a $45 million expansion, represents the linchpin of MAC's dominant South LA market position along with Stonewood and Lakewood.
In November 2014, New York-based American Realty Capital Partners sold SanTan Marketplace in Gilbert AZ for $66.1 million to a partnership between Blackstone Real Estate and DDR Corp. It is a retail project within the larger SanTan Village. This sale, for the 285,000-square-foot center on the southwest corner of Loop 202 and East Williams Field Road, was part of a bigger national deal including 71 retail properties valued at more than $1.9 billion.
In November 2014, Houston-based Whitestone REIT paid $29.3 million for the Fulton Ranch Towne Center and $18.6 million for the Promenade at Fulton Ranch. RED Development of Phoenix sold both the south Chandler AZ retail properties. Whitestone's Fulton Ranch Towne Center, at the southwest corner of Ocotillo Road and Arizona Avenue, is 86 percent leased and has 113,381 square feet of space. The Promenade at Fulton Ranch, at the northeast corner of Alma School and Chandler Heights roads, is 76 percent leased and has almost 99,000 square feet of space. Whitestone's CEO said plans call for increasing the occupancies in the company's Fulton Ranch shopping centers to more than 91 percent over the next 12 to 18 months.
In October 2014, North Hanover Centre Realty and North Hanover Nassim purchased the North Hanover Mall in York County, PA for $15,260,000, according to a deed transfer. Mason Asset Management will take charge of leasing vacant spaces in the 452,000-square­foot mall, according to a company representative. Pennsylvania Real Estate Investment Trust (PEI) announced on Sept. 9 that it sold the North Hanover Mall well as State College's Nittany Mall, for a combined $32.3 million.
In October 2014, regional malls in Richmond and Norfolk were among seven retail centers acquired by Starwood Capital Group from Taubman Centers Inc. in a $1.4 billion deal. Stony Point Fashion Park in Richmond VA opened in 2003 and offers about 660,000 square feet of space. Anchor tenants include Dick's Sporting Goods, Dillard's, Saks Fifth Avenue and CineBistro. According to Richmond BizSense, Starwood paid $72 million for the center. Not included were the Dillard's and Saks Fifth Avenue stores, both of which are owned by the retailers. The larger of the two properties, the 900,000-square-foot MacArthur Center, opened 15 years ago in Norfolk. Its tenant lineup comprises about 140 stores and restaurants, including a 7,500-square-foot Texas de Brazil restaurant that opened on Nov. 1. The sale price was not disclosed, but a report of its current market value is in the $144 million range. Also acquired by Starwood were Northlake Mall, Charlotte, N.C.; The Mall at Wellington Green, Wellington, Fla.; The Shops at Willow Bend, Plano, TX; The Mall at Partridge Creek, Clinton Township, Mich.; and Fairlane Town Center in Dearborn, Mich. Price allocations for these properties were not available. Starwood Retail Partners will manage and lease the properties.
In September 2014, Washington Prime Group Inc. (NYSE: WPG) said it intended to buy Glimcher Realty in a stock and cash transaction valued at approximately $4.3 billion, including the assumption of debt. The new company will be known as WP Glimcher (WPG). Michael Glimcher will be CEO of the new WP Glimcher (WPG). Washington Prime Group is the strip-center REIT spun off from Simon Property Group earlier this year. As part of the agreement, Simon will acquire two Glimcher shopping centers for a combined $1.09 billion. The combined company will be known as WP Glimcher and will be comprised of 68 million square feet of gross leasable area, spread across 119 properties. WP Glimcher will be based at Glimcher's existing headquarters in Columbus, OH. Mark S. Ordan, CEO of Washington Prime, will serve as executive chairman of the board, while Michael Glimcher will serve as the combined company's vice chairman and CEO, reporting to Ordan. The deal is expected to close in the first quarter of 2015. Concurrently with the closing, Simon will add Glimcher's Jersey Gardens outlet center in Elizabeth, NJ and University Park Village in Fort Worth TX to its portfolio.
---