---
In This Issue:

Simon to Spin Off Malls & Centers
Retail Cap Rates at Historic Lows
Mall Vacancy Slowly Improving
Recent Transactions
AVG to Present at WAAO Annual Conference
---
Simon to Spin Off Malls & Centers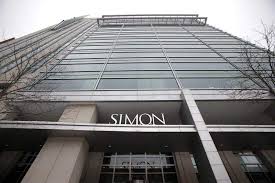 On December 13, 2013, the 20th anniversary of Simon Property Group, Inc. (NYSE: SPG) becoming a publicly traded company, CEO David Simon announced that the company plans a spinoff to existing shareholders 44 smaller malls and all 54 strip and open-air power centers into SpinCo. Initially 70% of SpinCo net operating income, or NOI, will come from malls with the remaining 30% from the open-air centers. During the companyís conference call, Mr. Simon made it clear that the open-air component will be the focus for SpinCo new development and growth. Additionally, some of the smallest mall properties may be sold as well.

The move by Simon is unusual because most new publicly traded companies come via initial public stock offerings from existing companies seeking more working capital. Simonís plan will birth a ready-to-go, staffed-up and well-financed company valued near $6 billion. Its main assets will be 54 strip centers and 44 malls in 23 states. Publicly traded Simon, which started up in Indianapolis in 1960 and is one of the nationís largest operators and developers of shopping centers, said the spinoff will let it focus on its most-prized assets, its large regional malls and outlet centers, plus international expansion. The spinoff will slim Simonís portfolio by a third.

Simonís board opted not to sell the strip centers and smaller malls to the highest bidder, partly because a sale would be a taxable event for shareholders. The spinoff wonít be taxable and will give shareholders stock in the new company and a chance to share in any growth. Simon chose to use NOI of less than $10 million per year as the metric to decide which malls to be included in the spin-off. But in addition to the 36.4 million square feet of mall space, SpinCo also has 16.6 million square feet of power/strip centers. There really isnít another REIT with a similar dual asset class mix.

Occupancy of properties that will be deeded to SpinCo is more than 90 percent. Although many are in smaller cities with limited population growth, the properties as a whole have significant expansion potential, with more than $300 million of development opportunity. Top management for SpinCo, including its CEO, will be named in the first quarter. Its board of five to nine members will include David Simon and Richard Sokolov, President and COO of SPG, who will be chairman.

This 1:1 share spinoff seems like a great idea for existing SPG shareholders. When the SpinCo Form 10 is filed with the SEC, there will be more information for all investors to evaluate. Analysts will be looking closely at the SpinCo mall component. SPG will have to prove that its new business model - own higher quality properties while maintaining a strong balance sheet - can provide long-term investors with excellent risk adjusted returns.

---
Retail Cap Rates at Historic Lows

During the past year, the cap rates for most single-tenant net-leased properties have hovered around historic lows, but in the final quarter, rates for retail and office sank even lower. In fact, new research shows retail and office rates hit their lowest levels in the past decade. However, cap rates for net-leased industrial properties did increase. According to a new report by The Boulder Group, a commercial real estate firm in suburban Chicago, rates for retail sank from 7.02% in the third quarter to 6.85% in the fourth quarter, and for the first time in the past decade the sector's rate fell below 7.0%. In comparison, rates for office properties fell from 7.7% to 7.4%, also a decade low, and cap rates for industrials grew from 8.0% to 8.15%.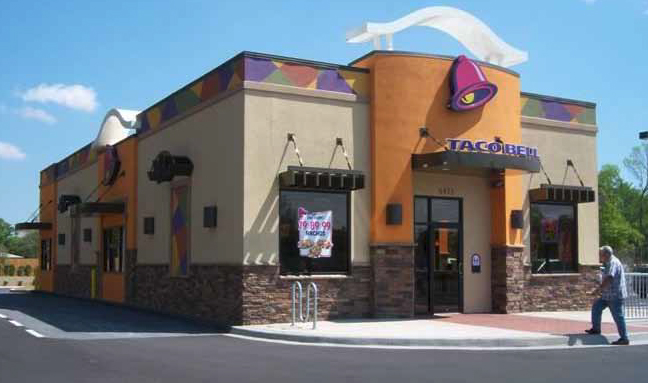 "Investors' perception was that cap rates would follow the rising interest rate climate; however this correlation did not occur," the report notes. "Supply constraints remain a primary factor to the current cap rate levels within the net lease market." Boulder officials believe that with so many institutional investors and real estate funds trying to hit year-end acquisition targets, the supply of available properties decreased. In addition, "investors were able to refinance at historically low rates which allowed single tenant property owners to hold rather than sell."

Boulder also recently conducted a national survey of those participating in the net-leased market, and the largest group of those surveyed believes cap rates will rise more than 25 bps by the end of 2014. As might be expected, the most cited reason by participants was the expectation that interest rates will increase.

---
Mall Vacancy Slowly Improving

Malls have generally experienced a stronger recovery relative to smaller shopping centers; national vacancies peaked at 9.4 percent in the third quarter of 2011, and have descended at a faster pace than neighborhood and community center vacancies, according to Reis, the real estate research firm. Third quarter 2013 mall vacancies stand at 8.2 percent, down 10 basis points from the second quarter and down 50 basis points year over year. Asking rents grew by 0.4 percent in the third quarter and 1.4 percent from twelve months prior.

However, much of the "have and have not" characterization of the world of shopping centers also applies to regional malls. The healthiest malls, usually owned or operated by larger REITs including Simon Property Group, General Growth Properties, Taubman Centers and others, benefit from vacancy rates much lower than the Reis national average: Simon Property's latest results for their malls and Premium Outlets, for example, boast a 90 basis point decline in vacancies from September 2012 to September 2013 (with the most recent vacancy level at a tight 4.5 percent). There are, however, millions of square feet of older malls with vacancy rates often more than double that of Simon's enviable sub-5 percent benchmark. For many of them, mall traffic remains anemic, trending flat to downward. This is reflective of increased competition from online retailing, a lack of fashion newness, little product innovation, and increased competition from high-end outlet centers. Growth at these outlet centers is accelerating, with developers planning and opening new centers nationwide.

The near term outlook for the retail sector will continue to be challenging. For neighborhood and community centers, Reis expects vacancy rates to compress by no more than 10 basis points in the fourth quarter while rents will grow at more or less the same pace of the last few quarters. For malls, vacancy rates are expected to continue to fall while rents will continue to increase, at somewhat faster rates than those for shopping centers. On the bright side, recent job market reports have been promising. The nation added 200,000 or more jobs in two consecutive months for the first time since late last year. Should improvements in job growth continue, it would be a boost to consumer spending and retail properties nationwide.

Not surprisingly, the longer term issue for the sector is the continued rise of e-commerce. The most astute retailers, like Apple, have figured out an optimal blend of online versus physical delivery methods, managing pricing, product release timings, and distribution channels aggressively so that buyers of newly released products cannot get a better deal by switching to online discounters.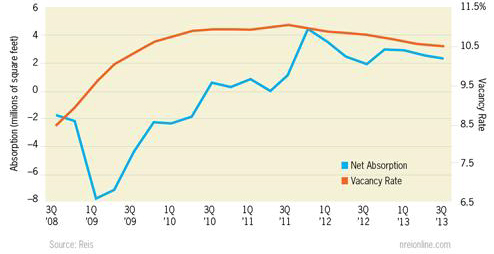 Vacancies for neighborhood and community centers were unchanged during the third quarter and now stand at 10.5 percent, just 60 basis points below the peak vacancy of 11.1 percent, recorded during the third quarter of 2011. This modest vacancy compression was predominantly due to weak demand with only 2.3 million sq. ft. of space absorbed this period, the slowest rate of increase in occupied stock this year. Much of the quarter's net absorption can be attributed to new product coming online pre-leased, given the continued necessity of pre-leasing in order to secure financing for the development of new centers. A total of 1.5 million sq. ft. of new space was completed, the largest volume of quarterly additions from new construction thus far in 2013.

On an annual basis, asking and effective rents both grew by 0.5 percent in 2012, so the market appears on track to record approximately double the rate of growth in 2013. This is certainly a welcome development for retail property owners and investors, suggesting that landlord pricing power might begin to stabilize as vacancy gradually tightens. Cap rates are still hovering around 8.0 percent, but this average is somewhat misleading as the market continues to display selection bias and be dominated by high-quality deals. Many properties that would trade at far lower cap rates are not being consummated which is skewing the data.

---
Recent Transactions

Nationwide, transaction volume for good quality retail properties continues unabated. Here's a look at some of the recent deals:


In December 2013, Rouse Properties Inc. expanded its reach into Virginia and Maryland via the purchase of Chesterfield Towne Center in Chesterfield VA and the Centre at Salisbury in Salisbury, MD, both from affiliates of the Macerich Co. The New York City-based shopping center REIT paid a total of $292.5 million for the two properties, including the assumption of debt. The larger of the two properties at just over one million square feet, Chesterfield Towne Center serves a trade area of more than 550,000 people. Built in 1975 and last renovated in 2008, it is anchored by Macy's, Sears, JCPenney and Garden Ridge, with a tenant roster that also includes Victoria's Secret, Loft, francesca's collections, ULTA and Bath & Body Works. Rouse assumed an existing $109.7-million non-recourse loan on Chesterfield Towne Center with a 4.75% interest rate and an October 2022 maturity date. Industry data indicate that the REIT paid a total of $187.1 million for the property. The 862,000-square-foot Centre at Salisbury is reportedly the only enclosed mall for over 55 miles serving a trade area of over 330,000 people across nine counties in Maryland, Virginia and Delaware. It opened in 1990 and was renovated in 2010. The mall is anchored by Macy's, Boscov's, Sears, JCPenney and Dick's Sporting Goods, and there is also a 16-screen Regal Cinemas movie theater on a 72,000-square-foot outparcel. Rouse assumed an existing $115.0-million partial recourse loan with a 5.79% interest rate, due to mature in May 2016.
Also in December 2013, the Fort Smith Pavilion was sold for $43.3 million to Inland Real Estate Corp. of Oak Brook, Ill., in a bundle deal that includes a Florida market. Inland Real Estate acquired the Fort Smith Pavilion from Phillips Edison & Co. through a joint venture with Dutch investors PGGM. The deal includes a loan assumption of approximately $33.2 million at closing. Inland Real Estate also purchased phase one of the Goldenrod Marketplace shopping center in Orlando for $20 million. The 97-percent-leased Fort Smith Pavilion - anchored by Target, Dick's Sporting Goods and Best Buy - has 415,000 square-feet of gross leasable space. Inland Real Estate acquired approximately 288,000-square-feet of the total space occupied by stores including Bed Bath & Beyond, Old Navy, Petco, Michaels, Books-A-Million, Shoe Carnival and ULTA.
Peninsula Crossing, a shopping center on U.S. Route 113 in Millsboro, DE was sold by Millsboro Towne Center LLC for $37 million to Cole Real Estate Investments in December 2013. The 600,000 square foot regional power center, which opened in 2009, features anchor tenants including Lowe's Home Improvement, BJ's Wholesale Club and PetSmart. Large big box and small spaces are available. Cole Real Estate Investments is a net-lease Real Estate Investment Trust focused on acquisition, active management, leasing and financing of its retail, office and industrial portfolio.
In December 2013, Ramco-Gershenson Properties Trust (NYSE:RPT) announced that it has acquired Deerfield Towne Center in Mason, Ohio, a high-income, in-fill Cincinnati suburb, for $97 million. The acquisition was financed with $52 million in cash, $25 million of new unsecured term debt due in 2020, and $20 million in borrowings under Ramco's revolving line of credit. The 461,000 square foot shopping center was built in 2004 and is anchored by one of only two Whole Foods serving the Cincinnati MSA, as well as by Bed, Bath & Beyond, Dick's Sporting Goods, buy buy Baby, Ashley Furniture, and a 16-screen Regal Cinema. An outstanding line-up of national lifestyle retailers enhances the center's tenant mix and includes White House/Black Market, Chico's, Coldwater Creek, Talbots, Ann Taylor Loft, Gymboree, The Children's Place, Charming Charlie, Hot Mama, Jos A Bank, and Soma Intimates. Deerfield Towne Center also includes over 10 popular restaurant destinations, including Bravo, Panera Bread, Jimmy John's, Qdoba Mexican Grill, Mimi's Cafť, and the Rusty Bucket.
In November 2013, two big-box retail properties in Elmsford NY, whose previous owner filed for bankruptcy nearly two years ago, sold for a combined $28 million to Kimco Realty Corp. (NYSE: KIM), headquartered in New Hyde Park NY. KIM paid $18 million for the Sports Authority building and parcel at 295 E. Main St., according to Westchester County land records. The adjacent Bed Bath & Beyond property at 251 E. Main Street was also acquired by KIM for $10 million. Sport Authority, a national retail chain, held an August grand opening at its approximately 58,000-square-foot store. The one-story space was vacated in early 2012 by Syms Clothing and Filene's Basement after owner Syms Corp. and its subsidiaries, most notably Filene's Basement L.L.C., filed for Chapter 11 bankruptcy protection. The Secaucus, N.J., company emerged from bankruptcy one year ago as Trinity Place Holdings Inc. The Syms business successor was the seller in the Elmsford deal.
In October 2013, Marcus & Millichap Real Estate Investment Services arranged the sale of the ground lease on a 120,224-square foot BJ's Wholesale Club retail store in Revere, Mass. The $16.4 million sales price equates to $136 per square foot. Robert Horvath, a vice president investments, and Todd Tremblay, also a vice president investments, both in Marcus & Millichap's Boston office, represented the seller, William Thibeault, owner of Rumney Marshview LLC. The buyer is a local private investor. BJ's signed the original 15year ground lease in March 2008, which includes one five-year and six 10-year options and rental increases are scheduled every five years throughout the base term and option periods. Built in 2009 on a 13.88-acre parcel, the property is located approximately six miles from downtown Boston.
---
AVG to Present at WAAO Annual Conference

American Valuation Group, Inc. announced that Mark T. Kenney, MAI, SRPA, MRICS, MBA, President of American Valuation Group, Inc. was invited to make a presentation on current retail market trends including ground leases at the 2013 Wisconsin Association of Assessing Officers' (WAAO) Annual Municipal Assessors Institute to be held in September 2014 at the Olympia Resort in Oconomowoc, WI.

In addition to national department store and big box tax appeal experience, American Valuation Group, Inc. was retained for appraisal and litigation support services involving the Palisades Center, Westfield Trumbull Mall, Eden Prairie Center, The Maine Mall, Landmark Mall, Coral Ridge Mall, Glenbrook Square mall, River Ridge Mall, Quaker Bridge Mall, Mayfair Mall and Plymouth Meeting Mall tax appeal litigations. Mark T. Kenney, MAI, SRPA, MRICS, MBA, President of American Valuation Group, Inc., is the author of "Business Enterprise Value: The Debate Continues," and other shopping mall articles that appeared in The Appraisal Journal,a leading industry journal published by the Appraisal Institute.

American Valuation Group, Inc. is a leader in the appraisal of shopping malls and shopping centers, and specializes in property tax appraisal and litigation support nationwide.

---