---
In This Issue:

Retail Market's New Normal
Net Lease Cap Rates Plunge, Again
Taubman Sells Malls to Starwood
Shopping Center and Mall Markets Hold Steady
Recent Transactions
AVG to Present at IAAO Annual Conference
---
Retail Market's New Normal

As the economy continues its tepid recovery, the retail market has kept apace. An unseasonably harsh winter and slow growth have led to weak consumer spending, as evidenced by a minimal increase of 1.8% year-over-year for Advanced Retail Sales (excluding motor vehicles and parts), as of the first quarter 2014. E-retailers continue to encroach on traditional merchants, many of which continue to reduce their footprint of brick and mortar stores. However, affected chains are focusing more on integrating the two sales sources, shifting to single transaction platforms and leveraging the synergies by turning some existing space into showrooms.

The retail landscape has become bifurcated into a tale of 'haves' and 'have nots' with weaker tenants closing while stronger brands are expanding into new spaces. According to a joint report by International Council of Shopping Centers (ICSC) and PNC Real Estate Research released in Q1 2014, during the quarter more than 2,400 national stores will be closed that comprise more than 27.1 million square feet. The home entertainment sector accounted for 55.5% of the GAFO-type closures, which was led by Radio Shack's announcement it will shutter 1,100 stores. Other notable closures in the first quarter 2014 will affect a mix a of retail segments including apparel retailer Dots, Staples, Sbarro and The Children's Place. However, there are bright spots. Smaller junior anchors, led by grocery and discount retailiers, are waiting to fill available big box spaces, while luxury remains a stalwart in malls as well as outlets. The latter segment has benefitted from the expansion of tenants such as Saks and Nordstrom, which are adding more locations offering different merchandise and targeting a different shopper.

The current profile of retail investors is strong and diverse. The retail real estate market currently has no lack of buyers, either by sheer numbers or type of acquirer. There is a tremendous amount of equity available in the market, from mom-and-pop buyers who are purchasing a stand-alone asset for $500,000 up to $2 million, to larger private and professional players. Major institutions and REITs are the primary purchasers of assets in the tens of millions of dollars.

The entities interested in buying a multi-tenant grocery anchored center are REITs or institutions because those assets are usually stabilized, and those entities are less concerned about yield. These institutions are interested in long-term stability, since they tend to hold on to assets for the long term. The cost of capital for REITs and institutions is so low that they can afford to take a 5.5% or 6% capitalization rate if the balance of the transaction suits their objectives. Multi-tenant retail investment isn't well-suited to the passive investor. Multi-tenant owners have to understand the tenants, the co-tenancies, how they work together and how to balance them so that they leverage one another. It involves actively managing the center to ensure quality performance. For high net-worth individuals interested in making more passive investments, the single-tenant route is more appropriate. Investing in REITs is also an option.

Investors in net lease assets also don't need to be in the same geographic locale as the property, either. Due to the reliability of these types of retailers and triple net leases, there is little need to make a local purchase. Additionally, if for some reason the space is vacated, the current lack of new construction and insatiable expansion demands of many single-tenant concepts make it unlikely that the property would stay empty for long. Moreover, the owner still owns the asset, which is the fundamental investment. For this reason especially, the net lease sector of retail real estate is not expected to slow down any time soon.
---
Net Lease Cap Rates Plunge, Again

Cap rates for single tenant net lease retail properties have sunk yet again, continuing a plunge that began roughly three years ago, according to a new study on the second quarter by The Boulder Group, a commercial real estate firm in suburban Chicago. The cap rates for retail properties went down to 6.5%, a decline of 25 bps from the last quarter, when rates had hit an already historic low of 6.75%. One year ago the retail rate stood at 7.0%.

The retail sector experienced the third straight quarter of historically low cap rates as a result of increased demand and the continually growing investor pool seeking the stable yield of the asset class, according to The Boulder Group researchers. Retail net lease assets remain the most desired property type in the net lease market as evidenced by the cap rate premium of 127 and 147 bps over the office and industrial sectors, respectively.

Rates for industrials were at 7.97%, a decline of only 3 bps, roughly the same level as one year ago. Office properties were the only sector that saw cap rates go up significantly, from 7.64% during the first quarter to 7.77%, the second consecutive quarter that the rate increased. Boulder attributes this "to the residual concern of ongoing vacancy challenges facing the suburban and secondary office markets."

The spread in cap rate premiums between retail and the office and industrial sectors is the largest spread in fifteen years. According to Boulder, investors favor retail assets as they typically have longer initial lease terms and investors have a familiarity with the tenants and a preference for the typical passive nature of the leases.
---
Taubman Sells Malls to Starwood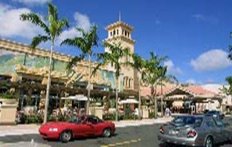 In June 2014, Greenwich, Conn.-based Starwood and Taubman Centers, Inc. (NYSE: TCO) jointly announced an agreement for Starwood to purchase seven of Taubman's U.S. malls, according to Taubman's presentation to investors. Analysts said the announced $1.4 billion deal for Bloomfield Hills-based Taubman to sell the malls was unexpected, but followed Taubman's usual model in real estate holdings. For Taubman, the pending sale is all about the cash, continuing a company strategy of generating capital for new deals.

Taubman's strategy with the most recent sale is to leverage capital for growth, distribute a special dividend to shareholders, and minimize its need to raise equity, the company told investors. That keeps with Taubman's historical strategy of "capital recycling," according to a Morningstar Inc. analyst's note. "We weren't expecting the asset sales, but this type of capital recycling has been a hallmark of Taubman throughout its history, as one of the few retail REITs (real estate investment trusts) that has not amassed an ever-increasing number of assets in its property portfolio," the note said. "Instead, Taubman's strategy has focused on improving the quality and productivity of its mall portfolio through strategic developments, redevelopments, acquisitions and dispositions, and this transaction is in keeping with that goal."

According to Morningstar, $453 million of the sale proceeds are expected to be paid out as a special divided (about $5 per share) early next year unless Taubman Centers can find new assets to purchase. That leaves $268 million in cash for future investments. Starwood's Chicago-based, wholly-owned subsidiary Starwood Retail Partners will manage the malls. The sale is expected to close in the fourth quarter. Among brokers and real estate attorneys, the move was seen as a sound decision by Taubman Centers, which mall pioneer A. Alfred Taubman founded in 1950.



Two of the malls included are in Michigan, including Fairlane Town Center in Dearborn built in 1976 with 1.4 mil. square feet of space, and The Mall at Partridge Creek in Clinton Township, which was built in 2007 and has 600,000 square feet. Other malls in the Starwood deal are MacArthur Creek in Norfolk, Va.; The Shops at Willow Bend in Plano, Texas; Stony Point Fashion Park in Richmond, Va.; Northlake Mall in Charlotte, N.C.; and The Mall at Willington Green in Wellington, Fla.
---
Shopping Center and Mall Markets Hold Steady

Markets Hold Steady National vacancy rates for neighborhood and community shopping centers as well as for regional malls were essentially unchanged during the first quarter 2014. For shopping centers, the result was slightly worse than the 10 basis points decline from last quarter, but it is still on par with the pace of improvement since the market began to recover roughly two years ago. The national vacancy rate remains down 70 basis points from the historical peak vacancy rate of 11.1 percent recorded during the third quarter of 2011. Although there is continued improvement in both the economy and the labor market, gains are not yet sufficient to translate into more meaningful declines in the national vacancy rate.

With the economy and the labor market both poised for stronger growth in 2014, an acceleration in the recovery of fundamentals is likely to occur this year. Expectations for GDP growth of around 2.8 percent in 2014, while not robust, are indicative of a U.S. economy growing above its long-term potential. Moreover, recent retail sales readings in February and March were generally upbeat after consecutive months of declining sales.

Construction during the first quarter of 650,000 sq. ft. was the lowest since the first quarter of 2011, while net absorption of 698,000 sq. ft. was the lowest since the second quarter of 2011. Inclement weather across much of the country undoubtedly had an impact on construction during the period, delaying projects.

Because demand remains tied to new construction, net absorption figures were also muted this quarter. Nonetheless, construction activity remains on an upward trend as the economy recovers. With the ongoing recovery in the economy, net absorption will increase, expanding beyond newly completed centers to existing centers as well. Therefore, the data from this quarter is more of an aberration than a reversal of the upward trend of the last couple of years. Asking and effective rents both grew by 0.4 percent this quarter. Although on par with growth rates from last quarter, rent growth nonetheless remains slightly below growth rates from early to mid-2007 before the onset of the recession. Year-over-year rent growth continues to trend upward with asking and effective rents growing by 1.5 percent and 1.6 percent, respectively. This is a slight improvement from last quarter when asking and effective rents both grew by 1.4 percent on a year-over-year basis, providing more evidence of the ongoing recovery in the retail market.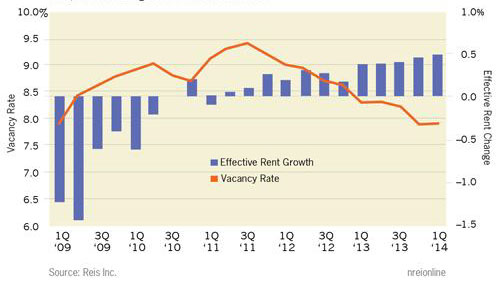 Malls continue to perform better than neighborhood and community centers, but their recovery remains challenging nonetheless. Vacancy as of the first quarter 2014 was 7.9 percent, unchanged from the fourth quarter and down 40 basis points from the first quarter of 2013. Vacancy is also down 150 basis points from the historical high level reached during the third quarter of 2011. Asking rents grew by 0.5 percent in the first quarter and 1.7 percent during the last twelve months.

Existing malls, to the extent that they can, are trying to improve their tenancy in order to attract more upscale consumers in their trade areas. Many malls that do not cater to high-end consumers are seeing their customers flee to outlet centers, power centers, and to online shopping. Moreover, retailers continue to close stores or go out of business altogether, putting even more pressure on these lower-end malls. The recovery in the economy will certainly help, but it will be by no means a panacea.
---
Recent Transactions

Nationwide, transaction volume for good quality retail properties continues unabated. Here's a look at some of the recent deals:

In June 2014, a CVS in Tyson's Corner, VA sold for over $24 million. It has 25 years remaining on its lease and a cap rate of just 4.97%, perhaps the lowest rate ever for a CVS in that price range. The seller of the CVS is a joint venture between a local developer and a national REIT. The buyer was a joint venture between a Middle Eastern group and Gary Rappaport. Calkain Cos. represented the sellers. The sale price per building square foot and price per acre breaks another recent market record -the $1,672 per square foot trade of the Starbucks building in Washington, DC, earlier this year, which was also brokered by Calkain. The CVS is uniquely positioned, which explains some, but not all of the drivers behind the sale. Located at 8117 Leesburg Pike, it is the only drugstore to serve Tysons Corner, which has become a city in its own right. The ground lease for this CVS is a credit lease for 25 years of primary term with a 26% rent increase in the 16th lease year.


In June 2014, an out-of-state investor group snapped up Golden Gate Plaza, in a $47 million deal that promises changes for the Mayfield Heights OH shopping center. The buyer was a joint venture between Hornig Capital Partners LLC of New York, Hutensky Capital Partners of Connecticut and B&D Holdings, another East Coast company. The sellers were Cleveland-based Forest City Enterprises Inc. and members of the Goldberg family, who have owned the shopping center for decades.

Built in 1958, Golden Gate sits south of Mayfield Road near Interstate 271. The buyers were attracted to the center's location, its prominence and its tenant roster, which includes PetSmart, Marshalls, H.H. Gregg, OfficeMax and Jo-Ann Fabrics. The 370,000-square-foot center is 95 percent occupied, but there is still room for improvement according to the buyer who intents to fix the parking lot, do facade work and possibly bring in a grocer.


Goodman Real Estate Services Group of Lyndhurst will continue to handle leasing at the property. Kyle Hartung and Jim Becker of Goodman, along with a broker from CBRE Group Inc. in Los Angeles, represented Forest City. Joseph Khouri of CBRE's Cleveland office represented the buyer.

The deal was somewhat unusual, since the shopping center was not formally listed for sale, but it is not surprising to see Forest City prune another Northeast Ohio property from its portfolio. The publicly traded company focuses on major markets, including New York, and has been concentrating on its regional malls while shedding other shopping centers.


In May 2014, a single-tenant, net-leased CVS property traded for $5.9 million. The Boulder Group represented the seller, a Midwest-based high net worth individual. The buyer was a private real estate investment company. The 10,880-square-foot building was built in 2003. CVS has ten years of lease term remaining on the original 20-year lease. "Properties leased to investment grade rated tenants with scheduled rental escalations, like this CVS, will continue to be sought after as a hedge against inflation," says Randy Blankstein, president of The Boulder Group. The property is located 20 miles southwest from Birmingham in Bessemer, AL, at 2901 Morgan Rd. The CVS is situated in an affluent area with average annual household income of more than $104,000 per year. Well located single tenant assets with solid real estate fundamentals continue to be in the greatest demand.


In May 2014, Rouse Properties, Inc., a national owner and operator of enclosed regional malls, announced the acquisition of Bel Air Mall, in Mobile, Alabama, for a total purchase price of approximately $135.2 million, excluding transaction costs and closing adjustments. According to Andrew Silberfein, president and chief executive officer of Rouse Properties, the acquisition of Bel Air Mall, which is a perfect fit with Rouse's growing portfolio of dominant 'only-game-in-town' regional malls. Bel Air, the only regional mall within 60 miles, enjoys a protected competitive position along with an excellent roster of over 110 retailers. The Company believes there are substantial opportunities to create value through targeted improvements to the asset and to the retailer merchandising mix. Since the Company's formation, acquisitions total more than $650 million of malls, and they continue to have a pipeline of additional opportunities moving forward. Bel Air Mall, a 1.3 million square foot super regional mall, serves an expansive trade area of more than 570,000 people across southern Alabama, Mississippi, and the Florida Panhandle. Bel Air Mall opened in 1967, and was renovated in 2006. The mall is anchored by Belk, Dillard's, Target, jcpenney and Sears, and features leading national retailers such as Victoria's Secret, Francesca's, Forever 21, Bath & Body Works, Buckle, Charlotte Russe and Foot Locker. The center is approximately 90% leased, with average inline sales of $340 per square foot. Mobile, Alabama, is the largest metropolitan area along the Gulf Coast between Tampa and New Orleans. The mall was acquired in an off-market transaction from a private partnership managed by Gregory Greenfield & Associates. As partial funding for its investment, Rouse assumed an existing $112.5 million non-recourse loan, with a 5.30% interest rate and a December 2015 maturity date.


In April 2014, Forest City Enterprises Inc. reportedly sold the Promenade Bolingbrook mall for a big loss to a unit of Starwood Capital Group. Starwood Retail Partners, a Chicago-based subsidiary of the Greenwich, Conn.-based private-equity behemoth, has agreed to pay more than $80 million for Promenade Bolingbrook, a 628,995-square-foot mall near Boughton Road and Interstate 355 in the southwest Chicago suburb. Cushman & Wakefield Inc.'s Chicago office brokered the sale for Forest City.

The pending sale promises a painful exit from Bolingbrook for Cleveland-based Forest City, which told investors in a recent securities filing it would take a $54.2 million impairment charge to write down the value of the property ahead of the sale. In other filings, the firm reported spending $152 million developing the Promenade Bolingbrook, but over the years it has also sold off nearby land parcels. Like other developers that opened retail properties as the real estate market was peaking, Forest City has had a hard time filling up Promenade Bolingbrook with tenants paying enough rent to justify the cost of construction. When Forest City put the property up for sale last year, the occupancy rate was 91%.

The center was built for higher-end shoppers in a more middle-class market. The tenants that came were not the highend-rent-paying tenants. That was exacerbated by the downturn in the market. Promenade Bolingbrook's tenants include a 146,355-square-foot Bass Pro Shops, a 42,000-square-foot iPic movie theater and smaller shops such as shoe peddler DSW and apparel chain H&M. A Macy's on the site is owned separately.

Starwood will face the challenge of finding new tenants in a local retail market that is stabilized, but not booming. The vacancy rate for the trade area that includes Bolingbrook was 6.3 percent in the fourth quarter, the same as the year earlier but down from a peak of 12.3 percent in late 2009, according to CBRE Inc. However, little in the way of new retail development in recent years should help Starwood, as will the fact that Promenade Bolingbrook is a relatively new property.

Starwood will face competition from retail owners in nearby Oak Brook and Downers Grove. The firm can't "fight the market" and aim for the highest-end tenants, but rather must find retailers who cater to a broad customer base. Starwood's purchase of Promenade Bolingbrook will be its third local acquisition since 2012, when it bought majority stakes in the Chicago Ridge Mall in Chicago Ridge and Louis Joliet Mall in Joliet, as well as five other properties outside the area.


In April 2014, a Whole Foods Market in Park Ridge, IL, a suburb of Chicago, has 20 years remaining on its lease and sold for $16.6 million ($433 per square foot) with a cap rate of 5.13%. Chody Real Estate Corp. sold the Whole Foods to an affiliate of Oak Brook-based Inland Private Capital Corp., capitalizing on the new lease the grocer signed for the property. The 38,274-square-foot grocery store is located at 225 W. Touhy Ave. in the northwest suburb.
---
AVG to Present at IAAO Annual Conference

American Valuation Group, Inc. announced that Mark T. Kenney, MAI, SRPA, MRICS, MBA, President of American Valuation Group, Inc. was invited to make a presentation entitled "Cap Rates: Rates, Returns, Risks & Rewards at the 2014 International Association of Assessing Officers' (IAAO) Annual Conference to be held in August 2014 at the Sacramento Convention Center in Sacramento, CA. Mr. Kenney will also be a panelist, along with other members of IAAO's Research Committee, on the topic of business enterprise value in hotels.

In addition to national department store and big box tax appeal experience, American Valuation Group, Inc. was retained for appraisal and litigation support services involving the Palisades Center, Westfield Trumbull Mall, Eden Prairie Center, The Maine Mall, Landmark Mall, Coral Ridge Mall, Glenbrook Square mall, River Ridge Mall, Quaker Bridge Mall, Mayfair Mall and Plymouth Meeting Mall tax appeal litigations. Mark T. Kenney, MAI, SRPA, MRICS, MBA, President of American Valuation Group, Inc., is the author of "Business Enterprise Value: The Debate Continues," and other shopping mall articles that appeared in The Appraisal Journal,a leading industry journal published by the Appraisal Institute.

American Valuation Group, Inc. is a leader in the appraisal of shopping malls and shopping centers, and specializes in property tax appraisal and litigation support nationwide.
---