---
In This Issue:
Suburban Mall Rising in the Bronx
CBL Acquires Dakota Square Mall
Blackstone/Glimcher Look to Sell Two Malls
GGP to Add Two Boscov's Stores
Are Commercial RE Investments Riskier?
Recent Transactions
AVG Announces IAAO Conference Presentation
---
Suburban Mall Rising in the Bronx

The Mall at Bay Plaza, a 780,000-square-foot enclosed mall, broke ground this May in the Bronx and is scheduled for completion in 2014, at a cost of $300 million. The project is being developed by Prestige Properties. The mall's location, at the crossroads of the Hutchinson Parkway and Interstate 95 near Co-op City in the Bronx, is convenient to residents inside the borough as well as to suburban communities in Westchester County. Some 1.4 million people live within a 10-mile radius. Two strong anchor tenants, J. C. Penney and Macy's, have committed to the project.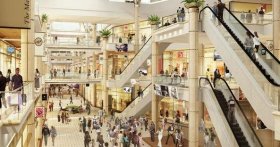 Prestige acquired the land on which the mall is being constructed in 1985, and it is part of a 78-acre site. The mall will be adjacent to the outdoor Bay Plaza Shopping Center, which has more than one million square feet of retail, including big-box stores like Barnes & Noble, Kmart and P. C. Richards, and 150,000 square feet of commercial office space. Having an outdoor mall adjoining will likely help attract shoppers. The existing 150,000-square-foot J. C. Penney at the Bay Plaza Shopping Center will be attached to the new mall and join a new, ground-up Macy's department store as the anchor tenants. The mall is expected to create more than 2,000 construction jobs and 1,700 permanent jobs.

The decision by Macy's to build a three-level, 160,000-square foot store at the site is a main reason Prestige Properties is moving ahead with developing the mall. Prestige had been talking to Macy's for years, but no deal ever materialized. Macy's had been interested in the site for years, but only now with the economy stabilizing are they willing to invest in new stores. The new location allows Macy's to infill their store count in the region. There is not a lot of mall development in the U.S. right now and the New York metro area remains a strong market.

A knowledgeable broker who is not involved in the marketing of the development reports that having two anchor tenants and being in a prime location were both good indicators of success. Access from two major highways is a major positive. A good highway network means people can come from a large radius. There will also be some 230 buses stopping daily at the mall. There is little direct competition in the area. The closest fashion mall is the Cross County Shopping Center in Yonkers, which is north and west of the Mall at Bay Plaza. The other option in the Bronx is the Gateway Center in the Bronx Terminal Market, which does not have a fashion focus.

The Mall at Bay Plaza will include an 1,800-spot parking garage and as many as 80 smaller retail stores. Asking rents will range from $100 a square foot to more than $200 a square foot, according to Welco Realty, the retail brokerage firm handling leasing. Welco has been marketing the mall since January. Potential tenants who are in discussions to lease space at the mall include Aéropostale, H&M, Express, the Gap and Victoria's Secret. In addition, the mall is in negotiations to sign a 40,000-square-foot health club, and is creating a food court with about 10 vendors. It is in talks with the Cheesecake Factory, Maggiano's Little Italy, Brio Tuscan Grille and Texas de Brazil to open two or three sitdown restaurants, and to sign up some fast casual restaurants, including possibly Bobby's Burger Palace and Chipotle Mexican Grill. Other non-fashion tenants possibly interested in space include the jewelry chain Zales, Build-a-Bear Workshop and Brookstone.

The structure of the mall, with Macy's on one side and J. C. Penney on the other, benefits design and tenant mix. The mall is short, so the specialty retailers will be clearly visible as people walk between the J. C. Penney and Macy's. The mall will be a suburban fashion mall in an urban environment, with two great anchors. Macy's is considered a fashion outlet, while J. C. Penney has tremendous appeal as a moderately-priced department store.
---
CBL Acquires Dakota Square Mall

In May 2012, Chattanooga, TN-based CBL & Associates Inc. announced that it had purchased the Dakota Square Mall in Minot, ND. The mall was acquired for a total consideration of $91.5 million, including the assumption of a $59 million loan, which matures in November 2016 and bears a fixed interest rate of 6.23%.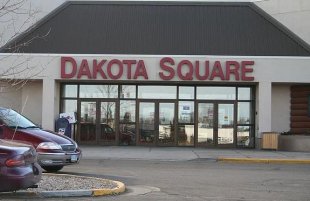 The 623,000-square-foot property, sold by the Lightstone Group, includes an attached hotel with an indoor water park. The mall is anchored by JCPenney, Target, Sears, Barnes & Noble and Carmike Cinema, and includes outparcels such as Best Buy and a grocery store. The 176-room Sleep Inn & Suites includes the Splashdown Dakota Super Slides. The 32-year-old property is 94% occupied with tenant sales at $470 per square foot, according to a statement from Savills LLC, which represented the New York City-based seller.

A major contributor to the Minot economy, the Minot Air Force Base has benefited from the Defense Base Closure and Realignment Commission and is one of the only ICBM bases in the United States. Situated just 50 miles from the Canadian border, near Winnepeg, the mall attracts thousands of Canadian shoppers weekly making up 15% of the center's 10 million visits, according to a CBL statement. Border crossings at nearby ports of entry are 30% higher than two years ago with more than 50% of weekend hotel stays at the Sleep Inn coming from Canadian guests.

There has been renewed interest in North Dakota due to rising oil prices, as the state includes the Bakken Shale Formation, the largest oil discovery in the United States in the past 40 years. Empty towns have seen much expanded population as jobs are added to work the oil boom here.
---
Blackstone/Glimcher Look to Sell Two Malls

Private-equity giant Blackstone Group LP and mall owner Glimcher Realty Trust listed for sale two U.S. malls that they jointly own after Blackstone decided that rising mall values justified cashing out its investment in the properties. Blackstone and Glimcher have hired brokerage Eastdil Secured to market WestShore Plaza mall in Tampa, FL, and the Lloyd Center mall in Portland, OR. The listing, which hit the market in April, came after Glimcher disclosed that it is buying Blackstone's 80% stake in a third mall the companies jointly own: Pearlridge Center in Honolulu.

Glimcher, which owns 24 U.S. malls, considered Pearlridge too valuable to allow other buyers a shot at it, according to Michael Glimcher, Chairman and CEO of Glimcher Realty Trust. The 1.1 million-square-foot mall generates annual sales per square foot of $500, well above the $404 average of the rest of Glimcher's portfolio. The Pearlridge deal is valuing the mall at $361.7 million, including debt, and Blackstone's 80% equity stake at about $150 million. The two had jointly owned the mall since November 2010, when they paid $245 million to buy it from Northwestern Mutual Life Insurance Co. and then put a $175 million mortgage on it. Glimcher financed its purchase of Blackstone's stake in Pearlridge by selling 23 million shares in late March.

Now Blackstone and Glimcher will put their two other malls on the block. Glimcher sold a 60% stake in WestShore Plaza and Lloyd Center to Blackstone in 2010 for roughly $63 million and the assumption of a 60% portion of the malls' $215 million mortgage. Unlike with Pearlridge, Glimcher could not agree with Blackstone on how much Blackstone's 60% stake in WestShore Plaza and Lloyd Center now was worth if Glimcher were to buy it back, according to people familiar with the matter. So, Glimcher will instead see what bids the malls attract on the open market before deciding whether it will buy Blackstone's stake, sell its stake along with Blackstone's or keep its stake and allow a third-party buyer to replace Blackstone.

WestShore Plaza and Lloyd Center are not as lucrative as Pearlridge. At 1.1 million square feet, WestShore Plaza generates annual sales per square foot of $419, slightly above Glimcher's average. Lloyd Center, at 1.4 million square feet, generates $330 and has declined in recent years. Some industry observers expect that Glimcher will buy Blackstone's stake in WestShore Plaza, but not in Lloyd Center. WestShore is the more likely acquisition because it is a higher quality asset than Lloyd Center.
---
GGP to Add Two Boscov's Stores

In May, General Growth Properties (NYSE: GGP) announced the addition of Boscov's department store to White Marsh Mall (Baltimore, MD) and Woodbridge Center (Woodbridge, NJ). The 197,000-square-foot Baltimore store is projected to open November 2012. The department store at Woodbridge Center opens August 2013 and will be 180,000 square feet. The addition of Boscov's department store offers a diverse merchandise mix at great price points. Also known for its customer service, Boscov's offers a broad selection of quality merchandise in its stores and online. For nearly 100 years, the department store has provided great values and brands, offering a broad assortment of brand-name fashion apparel and accessories for women, men and children, as well as cosmetics and electronics.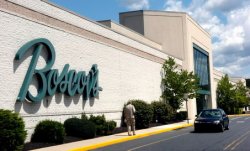 Boscov's is the largest, privately family owned Department Store in the United States with sales in excess of $1 billion. With 40 stores in Pennsylvania, New York, New Jersey, Maryland and Delaware, Boscov's has been known for offering customers a wider selection of merchandise, honest pricing and superior service. Boscov's is unique in that it is committed to the communities it serves and has a long distinguished history of civic and charitable activities. Boscov's serves consumers across the country with a strong online shopping capability as well.

General Growth Properties is a fully integrated, self-managed and self-administered real estate investment trust focused on owning, managing, leasing, and redeveloping regional malls throughout the United States. GGP currently owns, or has an interest in, 135 regional shopping malls comprising approximately 140 million square feet of gross leasable area. GGP is headquartered in Chicago, Illinois, and publicly traded on the NYSE under the symbol GGP.
---
Are Commercial RE Investments Riskier?

Despite cap rate compression over the last 24 months, cap rate spreads over 10-year U.S. Treasuries have actually been increasing since the middle of 2011. Does this mean markets are reflecting increasing risk in commercial real estate investing? The spread between cap rates and Treasury rates reflect the premium demanded by investors from investing in a relatively risky asset like commercial real estate, versus keeping money in risk-free assets like bonds backed by the U.S. government. Therefore, increasing spreads reflect heightened risk.

Spreads started out relatively tight (170 to 360 basis points) in early 2007, but began rising as the realization of the full effect of the 2006 housing crash dawned and credit markets began to tighten. In the wake of the fall of Lehman Bros. in late 2008, spreads expanded dramatically at first, and then more gradually throughout the remainder of the recession and the initial stages of the economic recovery. Risky assets such as real estate experienced tremendous declines in value during the recession, faster than the decline in NOIs, which pushed cap rates upward. At the same time, there was a flight to quality, liquidity and safety that pushed interest rates substantially downward. These factors caused spreads to increase.

During the latter half of 2010, spreads began to decline as appetite for commercial real estate re-emerged. Transaction volume was thin compared to the boom years from 2005 to 2007, but for properties that did transact, cap rates began compressing, falling at a faster rate than interest rates. Interest rates were already low by the time cap rates began compressing.

However, since the middle of 2011, spreads have once again been expanding. Most of the trend makes sense, but recent developments appear to be a bit of a conundrum. What can explain this recent expansion? The flight to quality in real estate that we have observed in recent years has not ended, nor has real estate risk been repriced in any significant form over the last 12 months. Generally, cap rates have been trending downward, even though they have been flattening as of late, signaling continued interest from investors.

The upward trend in spreads is being driven by the continued declines in Treasury yields. As the debt and banking crisis in Europe has continued, the flight to quality and safety in global capital markets has caused Treasury yields to continue to fall, even after the downgrade of U.S. sovereign debt last summer. The expansion in spreads really owes itself to the unique position that Treasuries occupy in the hierarchy of global investments, not a change in attitude toward real estate and real estate risk. This reflects the complex relationship between cap rates and interest rates and a reminder that the relationship between the two is not as straightforward as we sometimes think it should be.


---
Recent Transactions

Nationwide, transaction volume for good quality retail properties appears to be improving. Here's a look at some of the recent deals:


In July 2012, Weingarten Realty Investors, a leading owner, manager and developer of shopping centers in the U.S., announced the acquisition of 8000 Sunset for $99 million, representing approximately a 6% capitalization rate. 8000 Sunset is a 171,400 square foot grocery anchored shopping center, located on the Sunset Strip, in the West Hollywood submarket of Los Angeles, California. Located at the corner of Sunset Boulevard and Crescent Heights Boulevard, it is located at one of the most bustling intersections in Los Angeles with over 140,000 vehicles passing by the site each day. This densely populated location is surrounded by exceptionally affluent residential communities including Beverly Hills, West Hollywood and Hollywood Hills. It boasts strong three-mile trade area demographics including a population density of 240,000 people and average household incomes of $104,000. Currently, the property is 94% leased and is anchored by the California-based, specialty grocer, Trader Joe's, along with CB2 ("Crate & Barrel"), Sundance Cinema and Crunch Fitness.
In June 2012, the Nashville West Center sold for $73.2 million. The outdoor mall, praised for its design when it first opened last decade, is home to such stores as Target, Ross Dress for Less and Costco among others. The new owner is Nashville Exchange LLC, a limited liability company that is linked to a global real estate investment company, GLL Real Estate Partners. GLL is a Munich, Germany-based real estate funds management group formed in 2000 by three senior executives of HypoVereinsbank, Germany's then largest real estate bank, in a joint venture with Lend Lease Corporation and Italian insurer Assicurazioni Generali. The Orlando FL-based group has broad investments across Europe and in the United States and its investors include pension funds, insurance companies and others.
In May 2012, Cole Real Estate Investments (Cole), one of the nation's leading investors in high-quality, income-producing retail, office and industrial real estate, and RED Development, a privately held, wholly integrated real estate company, announced the acquisition of Macerich's interests in two retail power centers located in Chandler, Arizona. In a related transaction, Cole acquired 100% ownership of a third power center located in Gilbert, Arizona. The transaction value for all three properties is $100.55 million. As part of an ongoing joint venture, Phoenix-based partners Cole and RED Development are acquiring Macerich's 50% ownership interests in the Chandler Festival and Chandler Village Center for $31 million and $14.8 million, respectively, for a total purchase price of $45.8 million. RED will serve as onsite property manager and leasing agent for both properties. Additionally, Cole is acquiring 100% ownership of SanTan Marketplace in Gilbert, AZ, for $54.8 million from Macerich and its investment partner. The majority of the buildings in the shopping center, Phase 2 of SanTan Village, were built 2005. The sale includes four buildings that were about 91 percent occupied at the time of sale. RED will also act as the leasing agent on this shopping center, while Cole will handle day-to-day property management.
In April 2012, DDR Corp. bought Brookside Marketplace, a 550,000-sq.-ft. power center in Tinley Park, Ill., from Ryan Cos. Inc. for $47.4 million. Anchors at the center include Best Buy, Dick's Sporting Goods, HomeGoods, Old Navy, PetSmart, Michaels, Office Max and Ulta. Super Target and Kohl's serve as shadow anchors. Rick Drogosz and Joe Girardi, of Mid-America Real Estate Corp., represented the seller in the transaction.
Also In April, Poag Lifestyle Centers and DRA Advisors have bet on a strong Collierville TN submarket and suburban growth to bolster their recent purchase of The Avenue Collierville. The two groups, operating as G and I VIII Retail Carriage LLC, purchased the 712,000square-foot lifestyle center for $55 million from Carriage Avenue LLC, a joint venture of Cousins Properties Inc. and Jim Wilson & Associates. Poag Lifestyle Centers owns or manages six lifestyle centers across the county, registering 3 million square feet of retail. This 60-acre property is located at 4674 Merchants Park Circle.
In March 2012, Block 37, the beleaguered Chicago downtown shopping mall was purchased by CIM Group, a Los Angeles-based real estate fund for an undisclosed price. The sale could pave the way for the high profile four-level complex, which is bordered by State, Randolph, Dearborn and Washington streets, to move forward after nearly three years of financial trouble that has resulted in a vacancy rate of 70 percent for retail space. Block 37 failed to gain traction after lenders, lead by Bank of America, foreclosed on developer Joseph Freed & Associates a month before it was scheduled to open in 2009. In March 2011, the property was sold in auction to Bank of America for $100 million. Retailers were spooked when the troubled project went into receivership and changed hands. Coupled with banks shying away from financing interior construction necessary to bring in retailers, leasing slowed to a trickle during the recession. The mall has a smattering of tenants, including trendy apparel stores Anthropologie, Zara and locally-owned Akira, in addition to well-known international chains such as Disney, Puma and Sephora. The popular Magnolia Bakery occupies one of the store fronts. Large swaths of the top floors remain mostly empty. Talks to bring a movie theater and restaurant emporium to the upper two floors fell through.
On February 23, 2012, General Growth Properties (GGP) signed a definitive agreement for the acquisition of 11 Sears anchor pads within its portfolio for $270 million. This portfolio represents a significant opportunity to recapture valuable real estate within GGP's portfolio and enhances several expansion and redevelopment opportunities, including re-tenanting the anchor space and adding new in-line GLA. The acquisition closed in the second quarter of 2012. The Sears stores included are in Honolulu HI, Coralville IA, The Woodlands TX, Bellingham WA, Council Bluffs IA, Ocoee FL, Rochester MN, Champaign IL, Oklahoma City OK, Murray and Provo UT.
---
AVG Announces IAAO Conference Presentation

American Valuation Group, Inc. announced in February that Mark T. Kenney, MAI, SRPA, MRICS, MBA, President of American Valuation Group, Inc. was selected to make a presentation entitled "Intangibles in Commercial Properties: Are They the Right Thing?" at the 2012 International Association of Assessing Officers (IAAO) Annual Conference being held September 9-12 at the Kansas City Convention Center in Kansas City, Missouri. Mr. Kenney's presentation will focus on the intangible valuation issues associated with income-producing properties, specifically as they may apply in tax appeals. Property types to be discussed will be shopping malls, shopping centers, restaurants, hotels, among others.

American Valuation Group, Inc. was retained for appraisal services and expert testimony involving the Palisades Center, Eden Prairie Center and The Maine Mall tax appeal litigation proceedings. Mark T. Kenney, MAI, SRPA, MRICS, MBA, President of American Valuation Group, Inc., is the author of "Business Enterprise Value: The Debate Continues," and other shopping mall articles that appeared in The Appraisal Journal, a leading industry journal published by the Appraisal Institute.

American Valuation Group, Inc. is a leader in the appraisal of shopping malls and shopping centers, and specializes in property tax appraisal and litigation support nationwide.
---