---
In This Issue:
Katz Properties Buys VA Shopping Center
Inland Acquires Bayonne Crossing
Simon & Taubman Compete for Outlet Centers
Strip Center Vacancy Down First Time in 7 Years
Retail Starts at Record Low
Recent Transactions
AVG Announces ASA Conference Presentation
---
Katz Properties Buys VA Shopping Center

Katz Properties of New York City has purchased Westgate Shopping Center for $33.8 million, from a joint venture between Spectrum Partners LLC and Baltimore-based Alex. Brown Realty. The property last traded in 2009, when the JV bought the asset for $25 million from Principal Real Estate Investors. In its latest sale, it traded at a cap rate of 8%, according to principal Daniel Katz. Katz Properties, which has had only a minimal presence in the greater DC area, is gearing up for an investment spree of $150 million to $200 million over the next three years.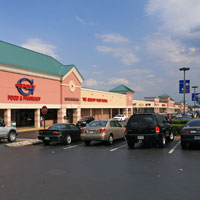 Katz has been interested in Northern Virginia in particular for its growth, job stability and strong demographics, making it a good retail market. Westgate is Katz's southernmost holding. Katz liked the 17acre Westgate in particular because of its Giant Supermarket anchor, since the grocer is the dominant supermarket in the region. The 172,000-square-foot center is situated at 8139 Sudley Road. Developed in 1964, it is 97% occupied by 20 tenants including Barnes & Noble, CVS, Total Wine and Panera Bread. There are three outparcels.

Webster Bank of Connecticut provided the mortgage financing, which was arranged by Goedecke & Co. The CBRE team of R. William Kent and Gary S. Lawrence represented both Katz Properties and the seller in the transaction. Winslow Property Management, an affiliate of Katz, will provide leasing and property management services.
---
Inland Acquires Bayonne Crossing

A subsidiary of Inland Diversified Real Estate Trust acquired Bayonne Crossing, a 356,647square-foot shopping center completed in 2011 at the interchange of Route 440 South and East 22nd Street in Bayonne, NJ. According to Inland's SEC filing, it purchased the retail property for $67.9 million using proceeds from an offering and a $45 million loan it secured at closing. The reported cap rate was 6.36%.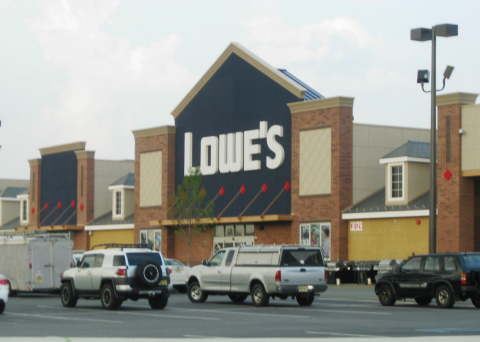 The Cameron Group, a mixed-use property development, investment and management firm based in Syracuse, NY, sold the property. The firm's holdings consist of approximately 2.3 million square feet of properties in New York, New Jersey and Kansas. It leases and manages an additional 1.2 million square feet in New York. HFF senior managing directors Jose Cruz and Andrew Scandalios and directors Kevin O'Hearn and Jeffrey Julien arranged the sale.

According to the purchase agreement, vacant spaces in the center totaling 10,827 square feet are subject to earnout closings totaling approximately $7.3 million. Inland will not be required to pay the earnouts on the spaces unless the spaces are leased within the next year.

Bayonne Crossing is 97% occupied with 22 current tenants. Major tenants include a new 91,109-square-foot Wal-Mart and a 146,583-square-foot Lowe's. Other tenants include Michael's, Dollar Zone, New York Sports Club and Longhorn Steakhouse. Average annualized base rent was $13.22 per square foot, and the average remaining lease term was 16 years.
---
Simon & Taubman Compete for Outlet Centers

Both Simon Property Group and Taubman Centers are competing to see which company can build an outlet mall in the St. Louis metro area first. Simon had the first cohesive statement by announcing early in April 2012 that it has signed anchor Saks OFF 5th to the St. Louis Premium Outlets and Taubman countered later the same week by breaking ground on its project Prestige Outlets Chesterfield, both within the St. Louis metro area. Indianapolis-based Simon's project, a $85 million venture with Woodmont Outlets and EWB Development, is part of the mixed-use Chesterfield Blue Valley development at Interstate 64 and US Highway 40. The first phase will have 350,000 square feet. The Saks would be the first OFF 5th store in Missouri.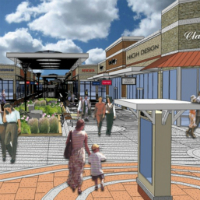 Taubman's site is across from the current Chesterfield Mall, and is set to include about 100 stores in 450,000 square feet. Bloomfield Hills, MI-based Taubman reports that the firm is the first to gain all city approvals to develop its outlet center. Taubman appears to have a time advantage, having worked to put together the site for more than a year. In addition, the company has firm commitments from retailers. Neither the names of the tenants nor the cost of the project, which is a venture between the Taubman and OutletPartners LLC, have been revealed. In a statement, COO William Taubman said his property is by far the superior site, and will be completed by fall 2013. Simon, which has 70 outlet centers, said its property should also be finished by fall 2013.

In early April, a number of outlet center projects announced throughout the Midwest, including a project by Muskegon, MI-based Horizon Group Properties to reportedly build a 355,000-squarefoot center in Louisville and recent city preliminary approval by Eagan, MN to allow Baltimore-based Paragon Outlet Partners LLC to open a 100-store project. Outlet centers have become an important and very productive sector of the shopping center industry.
---
Strip Center Vacancy Down First Time in 7 Years

According to a report by Reis, Inc., the average vacancy rate at U.S. strip malls fell for the first time in nearly seven years in the first quarter of 2012 and rents inched up, but it is too early to call a rebound for a sector battered by the housing bust and recession. Reis, the real estate research firm, said vacancies at large U.S. regional malls continued to decline in the near-absence of new supply, but consumer spending is not strong enough to lift retail real estate out of its slump. "The tide of the economy is not rising quickly enough to raise all the ships in the ocean of retail," according to the report released in early April.

The retail real estate sector, which includes big regional malls, open-air lifestyle centers, strip malls and power centers that are home to big-box stores, have been among the hardest hit of all types of commercial real estate. At the mercy of consumer spending, these types of real estate have reflected the diverse pressures and changes in consumer spending. Big-box stores, which sell mass-market items like electronics and household goods, have been hit not only by the economic downturn but also by online retailers which compete on price. Recently, Best Buy said it would close 100 big-box stores and open 50 smaller ones focused on mobile phones.

During the first quarter, the national vacancy rate for strip centers fell to 10.9 percent from 11 percent in the prior quarter. Strip centers, also known as neighborhood shopping centers, are usually anchored by grocery or drug stores. Of course, one quarter improvement does not make a trend. Vacancies have been rising since bottoming at 6.7 percent in the second quarter of 2005. The first-quarter decline broke through the 11 percent cyclical high the national vacancy rate had been stuck at since the second quarter of 2011.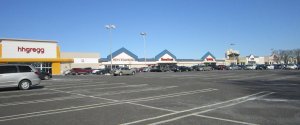 The average asking rental rate in the first quarter rose 0.1 percent, the same increase as in the fourth quarter, to $19.05 per square foot. Effective rent, which strips out months of free rent and other perks landlords offer to lure or retain tenants, also rose 0.1 percent to $16.57 per square foot. The decline in the vacancy rate, coupled with the increases in asking and effective rents, is the strongest evidence to date that the sector is beginning to stabilize and recover. The vacancy rate is expected to continue to slowly decline throughout the year, but until the U.S. economy and labor market are stronger, the outlook remains unclear for these shopping centers.

At regional malls, the first-quarter vacancy rate fell to 9.0 percent from 9.2 percent in the prior quarter. It was the second consecutive quarterly decline for the big malls. The average asking rent rose 0.2 percent to $39.00 per square foot. Reis does not track effective rent for regional malls. The trend has benefitted real estate investment trusts, including Simon Property Group Inc, General Growth Properties, Macerich Co. and Taubman Centers Inc , which collectively own more than 70 percent of the nation's so-called "class A" malls that generate the highest sales per square foot.
---
Retail Starts at Record Low

In spite of a slight rebound in retail real estate fundamentals, U.S. developers still are not moving forward with new construction projects, forecasts from several different research sources show. According to The CoStar Group, a Washington, D.C.-based firm, a total of 21.4 million square feet of new retail space is estimated will enter the national market in 2012, a record low figure. By most accounts, next year promises to be only slightly better in terms of deliveries of new space, largely due to the fact that retailers are not expanding the way they once had. This is an industry shift, switching to growing revenue primarily through online sales from growing revenue through physical locations.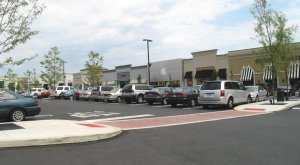 As a result of the difficulty in getting tenants to pre-lease space in new construction projects, lenders prefer to stay away from retail construction loans, while developers do not want to invest as much equity as they need to put shovels in the ground. Exceptions can be found mostly in core cities with strong income growth and substantial tenant interest in opening new stores. Marcus & Millichap forecasts 32 million square feet in new retail completions this year, down from approximately 35 million square feet in 2011. In strong gateway markets, there is an appetite for financing new projects, provided they have got a good credit tenant base.

In addition, most of the centers getting built today involve necessity retail or grocery-anchored shopping centers, centers anchored by drug stores and discount stores and net leased fast food restaurants. Construction of new malls and lifestyle centers remains on hold. Today's developers are cautious on all projects, not just those reliant on discretionary spending dollars.

Reis, a New York City-based research firm, estimates that there will be 8 million square feet in new neighborhood and community shopping centers delivered to the market in 2012. The figure will be higher than the annual average of 4.7 million square feet of new construction in 2010 and 2011. In comparison, the prior 10 -year average for annual completions of neighborhood and community shopping centers was considerably higher at 29 million square feet. Developers are paying keen attention to weak fundamentals with their hesitancy in bringing product to market.

In fact, new construction will remain anemic until the industry works through the record amount of debt maturities scheduled to come due between 2012 and 2016. Given the hundreds of millions of square feet of retail space that was delivered between 2006 and 2008, there is no shortage of available space for retailers to choose from right now. Therefore, in the near term, new project completions are not likely to rise above the 35 million square feet per year. Eventually, the industry will see an uptick in new construction. However, according to some sources, that will only occur after 2016, when all the legacy debt will clear the system.
---
Recent Transactions

Nationwide, transaction volume for good quality retail properties appears to be improving. Here's a look at some of the recent deals:


In April 2012, a subsidiary of Inland Diversified Real Estate Trust acquired Bayonne Crossing, a 356,647-square foot shopping center completed in 2011 at the interchange of Route 440 South and East 22nd Street in Bayonne, N.J. Inland said in a securities filing that it purchased the retail property for $67.9 million using proceeds from an offering and a $45 million loan it secured at closing. The Cameron Group, a mixed-use property development, investment and management firm based in Syracuse, NY, sold the property. Bayonne Crossing is 97% occupied with 22 current tenants. Major tenants include a new 91,109square-foot Wal-Mart and a 146,583-square-foot Lowe's. Other tenants include Michael's, Dollar Zone, New York Sports Club and Longhorn Steakhouse.
In late-March 2012, Starwood Capital Group announced being close to making a big push into the shopping mall industry as the company prepares to buy majority stakes in seven U.S. malls from Westfield Group for roughly $1 billion. Five of the seven malls are among the 17
U.S. malls that Sydney-based Westfield put on the market early last year. Westfield, which owns 118 malls globally, has stated publicly since last year that it will divest some of its mid-scale malls to raise capital for several billion dollars of redevelopment work at its more lucrative properties. Westfield will retain a minority stake in the properties being sold, but the percentage remains in flux. The deal is not complete, and is expected to close in the second quarter.
Also in late-March 2012, Columbus, Ohio-based Glimcher Realty Trust (NYSE: GRT) announced that it planned to buy the remaining 80% of Pearlridge Center, which is anchored by Macy's and Sears, from affiliates of Blackstone Real Estate Partners for a total of $289.4 million. Pearlridge is Hawaii's second-largest regional shopping mall. As part of the transaction, Glimcher, which currently owns 20 percent of the Aiea mall, would pay $149.4 million in cash and assume Blackstone's share of the five-year, $175 million mortgage. Glimcher completed a public offering of 23 million shares of common stock, the proceeds of which will be used to fund the acquisition of the Pearlridge Center shopping mall in Hawaii. The company's net proceeds from the sale of the shares, which were priced at $9.90 each, was approximately $218 million after expenses.
In March, Inland Diversified Real Estate Trust, Inc. closed on its acquisition of The Shoppes at Branson Hills, a 447,725-square-foot regional power center located in Branson, Missouri for an aggregate price of $50.6 million. The shopping center is located on Highway 65 at Branson Hills Parkway in the popular family destination town of Branson. The existing buildings are 100 percent leased at time of sale, anchored by national retailers including Kohl's, Best Buy, Bed Bath & Beyond, Michaels, T.J. Maxx, Petco, and several restaurants. The center is shadow-anchored by Wal-Mart Supercenter and Target as part of an existing 775,000-square-foot retail development. The sale also included ground leases for Home Depot, Chili's, McDonalds, Wendy's and Pizza Hut outlots, as well as additional development land. The rentable building area of the owned properties in this sale, excluding leased-fee interest, totaled approximately 271,000 square feet. The center is still partially under development, with construction to start soon on additional buildings.
In mid-February 2012, the Westfield Group formed a $4.8 billion joint venture on 12 regional shopping malls in the United States with the Canada Pension Plan Investment Board (CPPIB). The deal is the largest real estate investment made by the institutional investor, and a big bet on the future health of U.S. shopping malls. The investment gives CPPIB ownership interests in a total of 26 malls in major U.S. markets. It has also invested in malls in the U.K., Australia, Brazil and Germany. CPPIB will become a 45% joint venture partner in a portfolio of 10 regional malls and two redevelopment sites. The portfolio contains 13.53 million square feet of gross leasable area and includes one mall each in Maryland (Annapolis) and Washington (Tukwila). All of the other malls are in California. Westfield stands to net $1.85 billion in cash from the deal after CPPIB assumes property-related debt. The rich valuation may up the price tag for all U.S. mall REITs. Reportedly, the CPPIB deal was at a 5.6% cap rate (based on actual, in-place rents) for a portfolio generating sales of $456 per square foot.
Ashkenazy Acquisition Corp., a New York-based investor in retail and office properties, bought a luxury shopping mall in Bellevue, Washington, in its first acquisition in the Northwest
U.S. Ashkenazy paid $79 million for the Shops at the Bravern. The seller was a joint venture between Bahrain-based Investcorp Bank BSC (INVCORP) and Seattle-based Schnitzer West LLC. The purchase gives Ashkenazy a foothold in the affluent suburbs of Seattle known locally as the Eastside. The retail center has 309,000 square feet and is anchored by fashion retailer Neiman Marcus and includes restaurants, a gym and a spa. It opened in 2009 and was put up for sale in November 2011. The stores are part of a larger development that also includes office and apartment towers. The sellers received more than a dozen offers from private and institutional investors.
In late-February, Target Corp. paid about $43.2 million to buy its at Mosaic at Merrifield, a Fairfax County VA mixed-use center slated to open in September. Target, based in Minneapolis, MN, is one of several retailers that have signed on as marquee retailers, joining Angelika Film Center, Anthropologie, South Moon Under and Neiman Marcus Last Call. The Mosaic development is expected to include about 350,000 square feet of retail, another 73,000 square feet of offices, a movie theater and a hotel being developed by Edens Realty.
---
AVG Announces ASA Conference Presentation

American Valuation Group, Inc. announced in February that Mark T. Kenney, MAI, SRPA, MRICS, MBA, President of American Valuation Group, Inc. was invited to make a presentation entitled "Shopping Mall Intangible Value Extraction: Prospects & Pitfalls in Assessment Disputes" at the 2012 American Society of Appraisers (ASA) Annual Conference being held October 8-10 at the Arizona Biltmore hotel in Phoenix, Arizona. Mr. Kenney's presentation will focus on the intangible valuation issues associated with The Maine Mall, South Portland, Maine and Eden Prairie Center, Eden Prairie, Minnesota tax appeals.

The Maine Mall is a 1,020,000 square foot one-level, enclosed, super-regional shopping mall, which opened in 1971, was expanded in 1989 and renovated in 1994. It is the largest and most successful mall in the state, and is located in the largest metro area with convenient access to I-95. The Maine Mall is anchored by JCPenney, Macy's, Sears, Best Buy and Sports Authority. It is the dominant mall in its trade area due to size, location and tenant mix. In addition to the anchor stores, the mall has over 140 stores and restaurants.

Eden Prairie Center is a 1,342,000 square foot two-level enclosed super-regional shopping mall, which opened in 1976, was renovated in 1989 and 1994, and repositioned in 2001. The property is located in the Southwest area of the Twin Cities market and convenient to I-494. The shopping mall is anchored by Kohl's, Sears, Target Greatland, Von Maur and JCPenney. The repositioning involved adding a new Von Maur department store, an AMC multiplex theatres, a Barnes & Noble, more in-lines shops and a restaurant wing.

American Valuation Group, Inc. was retained for appraisal services and expert testimony involving both the Eden Prairie Center and The Maine Mall tax appeal litigation proceedings. Mark T. Kenney, MAI, SRPA, MRICS, MBA, President of American Valuation Group, Inc., is the author of "Business Enterprise Value: The Debate Continues," and other shopping mall articles that appeared in The Appraisal Journal, a leading industry journal published by the Appraisal Institute.

American Valuation Group, Inc. is a leader in the appraisal of shopping malls and shopping centers, and specializes in property tax appraisal and litigation support nationwide.
---