---
In This Issue:

New Mall Coming to Florida
Macerich Buys Kings Plaza & Green Acres Mall
American Dream Secures Permit
Net Lease Properties Become Hot Commodity
Financing Available for Net Lease Deals
Recent Transactions
AVG Presents at ASA International Conference
---
New Mall Coming to Florida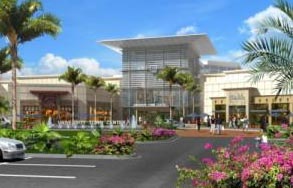 In a major boost to the long-stalled Mall at University Town Center, Saks Fifth Avenue is leaving Southgate Mall and joining Macy's and Dillard's as anchor tenants in the planned $315 mil. retail hub. Another 115 stores, most of them new merchants to Southwest Florida, are expected to occupy the two-level, 880,000-square-foot mall when it opens in 2014. Developers are Taubman Centers Inc. and Benderson Development Co.

The long-awaited Town Center - one of just two enclosed regional malls expected to be built in the U.S. in the next several years - will by itself equal the total amount of new construction in Sarasota County during 2009 and 2010. It will mean an estimated 1,000 construction jobs and 2,000 permanent retail jobs once completed.

While the department store slate falls short of luxury retailers like Nordstrom and Neiman Marcus that Benderson envisioned luring to the region when the mall was conceived in 2005 - and before the Great Recession stalled plans and forced a shift in anchors - the trio will still set an upscale tone. But landing Saks, Macy's and Dillard's for the local mall will be bittersweet for Sarasota County, which first approved the center based on assurances that it would not cut into existing retail.

Under their agreement, Taubman and Benderson will jointly own the mall, though Taubman will be responsible for development, management and leasing. Benderson, which owns the 73acre site at University Parkway and Cattlemen Road, intends to construct a hotel and 600 residential units near the retail hub around the same time.

A fourth anchor tenant has been planned - but not named - for University Town Center, and retail analysts believe the developers may be saving it in hopes of landing Nordstrom. The upscale Seattle retailer is already a tenant in Taubman's International Plaza. High-end mall developer Forbes Co. was originally Benderson's partner in the planned mall, and was largely responsible for convincing Nordstrom and Neiman Marcus to commit. Both anchors pulled out when delays shelved the mall in 2008. Forbes is no longer involved in the project.

Saks will occupy 80,000 square feet at Town Center, more than double the size of the Southgate site it opened in 1996, a "resort" store designed to be much smaller than its typical mall offerings. Dillard's store will be 180,000 square feet, featuring the latest in store design. The new site will be Dillard's first new store in Florida since 2008, and its first regional opening since it shuttered its Sarasota Square store and others during the recession. Macy's issued a separate announcement about its two-level, 160,000-square-foot store at University Town Center, which will be slightly larger than the stores it now operates at Southgate, Sarasota Square and Bradenton's DeSoto Square mall.


---
Macerich Buys Kings Plaza & Green Acres Mall

In October 2012, The Macerich Company (NYSE Symbol: MAC) announced the planned acquisition of Kings Plaza and Green Acres Mall. Kings Plaza is a 1.2 million square foot superregional mall. Kings Plaza is anchored by Macy's, Lowe's and Sears and is the only enclosed super regional mall in Brooklyn, New York. Green Acres Mall is a 1.8 million square foot super regional mall located in Valley Stream, New York. Green Acres is anchored by Macy's, Macy's Men's, Sears, Kohl's, jcpenney, BJ's Wholesale Club and Walmart.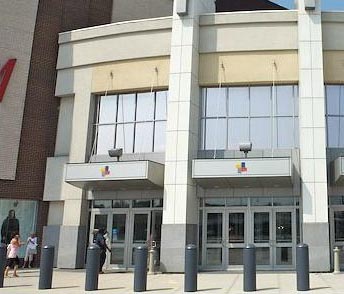 Kings Plaza is considered one of the most productive malls in the region and a great addition to Macerich's portfolio. The mall tenant's annual sales per square foot are $650. The center is currently 95% occupied and has a tenant lineup that includes Aeropostale, American Eagle, Armani Exchange, Forever 21, H&M, MAC, Pink, Swarovski and Victoria's Secret. Kings Plaza is being acquired from a subsidiary of Alexander's, Inc. The purchase price is $751 million and the transaction is planned to close in late 2012. Macerich plans to place secured debt on the property at the closing of the transaction. The balance of the purchase price will be funded from cash on hand, or from a line of credit.

Green Acres Mall is located on the border of New York City and Nassau County and serves an expansive and diverse trade area which includes southeast Queens and southwest Nassau County. The mall is 94% occupied and the mall tenant's annual sales per foot exceed $520. Green Acres was renovated and expanded in 2007 and has approximately 408,000 square feet of in-line mall tenant space that includes Aeropostale, American Eagle, Forever 21, H&M and Modell's sporting goods.

Green Acres is being acquired from a subsidiary of Vornado Realty Trust. The purchase price is $500 million and the transaction is expected to close in the first quarter of 2013. Macerich to place secured debt on the property at the closing of the transaction. The balance of the price will be funded from cash on hand, or from a line of credit.


---
American Dream Secures Permit

Developer Triple Five on October 26, 2012 received a long-awaited permit from the U.S. Army Corps of Engineers for its American Dream amusement and water park at the Meadowlands, according to three sources with knowledge of the situation. Reportedly, the permit was dated Oct. 24, but signatures from all parties were not obtained until Friday.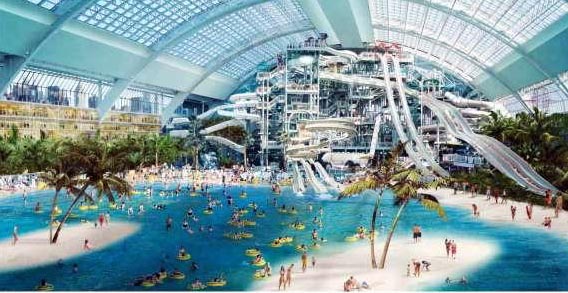 The applicants for the permit were Triple Five Development, Inc. based in Bloomington, Minn.; Metro Central, LLC, also in Bloomington, Minn.; and the New Jersey Sports and Exposition Authority. According to the document, the permittees seek to discharge some 50,000 cubic yards of fill into nearly two and a half acres of "tidal emergent wetlands" and about 2.8 acres of "nontidal emergent wetlands" to build the 639,000-square-foot amusement and water park complex, plus a perimeter road. Additionally, the permittees would dredge about 2,100 cubic yards of sediments from a stormwater culvert beneath the New Jersey Turnpike.

The Army Corps of Engineers permit, which allows the developer to fill in a tract of wetlands for its water park, was just one stumbling block for the project moving forward. The federal Environmental Protection Agency had objected to Triple Five's plan for remediating a tract of wetlands that would be developed for the massive retail and entertainment project. The EPA also had raised concerns about other issues, including whether the project can be reconfigured to minimize the use of fill at the site.

EPA's concerns reportedly were erased after U.S. Reps. Bill Pascrell Jr. (D-Paterson) and Steve Rothman (D-Hackensack) intervened in August as the EPA was still weighing its concerns over the massive retail and entertainment project. The EPA dropped its objections on Aug. 17, telling the Army Corps of Engineers in a letter that Triple Five had addressed its concerns. That same day, Pascrell's office issued a statement cheering the decision and alluding to a recent meeting and tour of the site that he had had with EPA officials. The state Department of Environmental Protection gave the project its stamp of approval in July.

The project, which requires a final review by the sports authority, also has been the target of a lawsuit by the New York Giants and Jets, which have raised concerns over the impact to traffic on game days. Completing the $3.7 billion project, once known as Xanadu, has been a top priority for Governor Chris Christie's administration.


---
Net Lease Properties Become Hot Commodity

September 2012 proved to be a busy month for the single-tenant net lease sector. Within a 24hour period on Sept. 6, Realty Income Corp., an Escondido, Calif.-based REIT specializing in net lease properties, bought American Realty Capital Trust, which owns 501 mostly net lease buildings, for approximately $2.95 billion; then Lexington Realty Trust, a New York City-based REIT, announced it was acquiring a portfolio of net lease office and industrial properties from its joint venture with Inland American for $480 million.

The mega-transactions taking place indicate that institutional investors' voracious appetites for quality net lease assets have met with a dearth of supply and skyrocketing valuations on one-off deals. In fact, when it comes to class-A net lease assets, with credit tenants, long-term leases and locations in the top 50 metropolitan areas, demand has been on par with demand for multifamily properties, currently the hottest investment class in real estate. That's due to several factors, including the perceived safety of the product type and higher return rates compared to other fixed-income investment alternatives.

Today, a 10-year government bond would yield a return of approximately 1.5 percent, while a net lease building offers returns from 5 percent to 8.5 percent or greater. There is also little risk associated with class-A net lease properties-as long as the location is good and the building is well-maintained there will always be tenants willing to sign leases even if the existing occupant leaves. This inspires greater confidence in conservative investors than the recently volatile stock market. Plus, net lease properties rarely require intensive management since the majority of them are leased on a triple-net basis, with the landlord bearing no responsibility for the structure.

The challenge for investors has been the fact that there aren't enough desirable properties on the market to feed existing demand. When such properties are available, they are priced at a premium. That's why most net lease specialists expect to see more company acquisitions like the Realty Income/American Realty deal and more IPOs as stock market investors become more aware of the advantages of net lease REITs.

On Sept. 20, for example, Spirit Realty Capital, a Scottsdale, Ariz.-based company that invests in and manages net lease retail and industrial properties, conducted an IPO valued at approximately $435 million. The firm issued 29 million shares at $15.00 apiece. Spirit Realty owns 1,096 properties in the United States.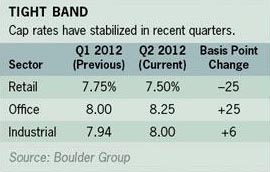 This past year, transactions involving net lease retail properties totaled approximately $6.9 billion, with the average cap rate of 6.8 percent and the average price of $254 per sq. ft., according to research by Calkain Cos. Transactions involving office properties totaled $6.6 billion, with the average cap rate of 7.7 percent and price per sq. ft. of $238. Industrial transactions totaled $8.5 billion, with a cap rate of 7.8 percent and an average price of $77 per sq. ft. Plus, the number of available retail assets nationwide rose 17.88 percent from the first to the second quarter of 2012, to 3,508 properties. The number of office properties on the market in the same period fell 9 percent, to 455. The number of available industrial properties rose 20 percent, but the total was only 384 buildings.

The stability of office and industrial properties is more directly tied to job growth than retail assets, so investors tend to feel greater concern about the economic fundamentals of the markets these assets are located in, no matter how long the lease is or how well-respected the tenant.


---
Financing Available for Net Lease Deals

During the third quarter 2012, industry observers agree that there is ample capital on the debt and equity side to finance net lease acquisitions. The capital costs appear attractive. Never before have treasury rates been lower and spreads tighter. Cap rates have also been trending lower. The question is whether this is in fact the case, and what types of transactions are currently being closed. Industry experts acknowledge that banks have a significant amount of capital allocated for chasing a small pool of available net lease deals.

A lot of banks are looking for growth, and the middle market out there is not necessarily borrowing at the levels you might expect. The national growth rate is about 2 percent and the banks are trying to grow more than that, and real estate is something into which they have gotten actively involved.

Five years ago, in a standard Walgreens transaction, you would be able to do a construction loan at nearly 100 percent-basically 99 percent would not be a problem. Developers could get an 8 percent return, and the banks would be able to fund everything. Lenders would require some moderate recourse until the construction was done, and then the developer could sell the asset off at a much lower cap rate.

In contrast, today investors have to put in a minimum of 20 percent equity and most deals require 25 percent to 35 percent. Another shift is that banks are trying to get growth because there are not that many construction projects out there, and they are looking at doing five-to-six year money. Bank's capital is a little more precious than for some of the other institutional entities out there, such as life insurance companies, so the pricing will be a little higher. You will see banks doing more five-to seven-year deals, if they can hit their pricing.

Another factor shaping the market is that CMBS lending has opened up. Volume is picking up dramatically, as spreads have come crashing in, and it is much easier getting things done than 12 months ago. In addition, hedge funds and private equity funds are looking into investing what they would call traditional equity money into debt, via B note or mezzanine structured debt on top of CTLs. There is a lot more of it going on, and it allows borrowers to send amortizations beyond the year 2020.

There has been a shift in the business sectors in which net lease activity is taking place. It is clear that retailers have been shrinking their growth plans. The volume of new construction drugstores and other retail-store product is down of late. In contrast, two areas of increased activity: (1) Medical office buildings - especially freestanding facilities in the 5,000-to 10,000square foot range, and (2) freestanding franchise-food retailer buildings.


---
Recent Transactions

Nationwide, transaction volume for good quality retail properties appears to be improving. Here's a look at some of the recent deals:

Spirit Realty Capital (NYSE: SRC) of Scottsdale purchased six leased Sportman's Warehouse stores in four states for $45 million, or about $7.5 million per store. Average store size is 50,000 square feet. The company recently filed for an initial public offering, or sale of stock, at an estimated $16-$18 a share. The deal, estimated at $460 million, is the largest IPO nationally scheduled during November. Spirit is a real-estate investment trust, or REIT, that gets nearly all its revenue from renting its properties to corporate customers such as Applebee's and Carmax. Shopko/Pamida stores are its largest tenants, making up about 30 percent of Spirit Realty's rent. The company counts $3.6 billion in real-estate investments and loans. Its 1,183 properties nationally were roughly 98 occupied.
Retail Properties of America Inc. (RPAI), based in Oakbrook, Ill., has sold 13 former Mervyns locations in California for approximately $100.4 million. Proceeds from the sale were used to repay the outstanding loan on the 23-asset Mervyns portfolio. "This sale is an important milestone in our strategic plan and demonstrates our ongoing commitment to focus on our three major initiatives for 2012, which include strengthening the portfolio, lowering our risk profile, and creating long-term value for our shareholders" according to Steve Grimes, president and CEO for RPAI. Taken together, the 13 assets represent approximately one million square feet and are currently 99 percent leased. The portfolio includes four Hobby Lobby locations, four Kohl's locations and five Burlington Coat Factory locations. RPAI anticipates closing on the sale of the majority of the remaining former Mervyns locations by the end of 2012.
In October 2012, Inland Diversified Real Estate Trust, Inc. announced the acquisition of a majority interest in The Crossing at Killingly Commons, a 395,539-square-foot shopping center in Dayville, CT. The property was purchased through a joint venture of a subsidiary of Inland Diversified and Dayville Unit Investors LLC, an affiliate of the seller. The joint venture valued the property at approximately $60.2 million. Completed in 2010, the center is anchored by Lowe's Home Improvement, which operates on a ground lease, as well as Stop & Shop and T.J. Maxx. Other national tenants at The Crossing at Killingly Commons include Staples, Bed Bath & Beyond, Michaels, Petco, Hallmark and GameStop. The property is also shadow-anchored by a Target store, which was not acquired.
In September 2012, Inland Real Estate Acquisitions Inc. bought South Elgin Commons, a 128,000-square foot shopping center in Elgin, Ill., and an adjacent undeveloped land pad, for approximately $25 million. This transaction was completed on behalf of Inland Diversified Real Estate Trust Inc. The center was 100 percent leased at the time of the sale. Ross Dress for Less, Toys 'R' Us and LA Fitness anchor the property. The undeveloped pad can accommodate up to 11,000 square feet of additional retail. Lou Quilici, senior vice president of Inland Real Estate Acquisitions, negotiated the transaction.
In a separate transaction, Inland Real Estate Acquisitions Inc. bought a portfolio of nine Walgreens stores located in Northeastern U.S. for $68.7 million. The acquisition was also made on behalf of Inland Diversified Real Estate Trust. The properties carry triple net leases, with remaining terms of more than 20 years. Walgreens Co. provided a guaranty for each lease.
In September 2012, Bentall Kennedy, a Toronto-based real estate investment adviser, purchased the Woburn Mall for $62.1 million. The 276,205-square-foot shopping center on Mishawum Road in Woburn, Mass., is anchored by Market Basket, TJ Maxx and CVS. It also includes more than two-dozen stores. CB Richard Ellis/N.E. Partners, represented the seller, KGI Properties, which bought the mall in 2001 for $12.9 million, and procured the buyer.
---
AVG Presents at ASA International Conference

Mark T. Kenney, MAI, SRPA, MRICS, MBA, President of American Valuation Group, Inc. made a presentation entitled "Shopping Mall Intangible Value Extraction: Prospects & Pitfalls in Assessment Disputes" at the American Society of Appraisers' 2012 International Appraisal Conference held October 7-10 at the Arizona Biltmore resort in Phoenix, Arizona. Mr. Kenney's presentation focused on the intangible valuation issues associated with shopping mall properties, specifically as they may apply in tax appeals. Recent efforts to identify and measure intangible asset components related to shopping malls was discussed and evaluated.

American Valuation Group, Inc. was retained for appraisal services and expert testimony involving the Palisades Center, Westfield Trumbull, River Ridge Mall, Eden Prairie Center and The Maine Mall tax appeal litigation proceedings. Mark T. Kenney, MAI, SRPA, MRICS, MBA, President of American Valuation Group, Inc., is the author of "Business Enterprise Value: The Debate Continues," and other shopping mall articles that appeared in The Appraisal Journal,a leading industry journal published by the Appraisal Institute.

American Valuation Group, Inc. is a leader in the appraisal of shopping malls and shopping centers, and specializes in property tax appraisal and litigation support nationwide.


---