---
In This Issue:

CMBS Sector Overshadowed by Slow Economy

Apple Stores Blow Past Other Retailers

Microsoft Plans New Stores to Take on Apple

Outlet Center Market Active

Recent Transactions

Recent Assignment
---
CMBS Sector Overshadowed by Slow Economy

As the commercial real estate market stabilized in 2010 and conduit lenders began to feel more comfortable with property fundamentals, many industry insiders predicted CMBS issuance would spike to $40 billion or $50 billion this year. But with the European debt crisis, the possibility of a double-dip recession in the U.S., the cancellation of a Citigroup/Goldman Sachs securitization in August and admissions from Standard & Poor's that it had "potentially conflicting methods" in how it was rating securitizations, bond buyers have been spooked in recent months. As a result, CMBS issuance in 2011 might well come in under $30 billion, according to Trepp LLC, a New York City-based provider of CMBS and commercial mortgage information. The figure would be far ahead of the $11.7 billion in issuance completed last year, but still nowhere near the peak year of 2007 when originators cranked out $230 billion in loans.

Year-to-date, conduit lenders closed $26 billion in new issuance, including $4.3 billion in September, according to Commercial Mortgage Alert, an industry newsletter. There might be a few more issues in the works, but don't expect a huge spike in volume. Based on recent indications from issuers and industry observers, overall CMBS volume could potentially rise by another $3 billion by the end of the year.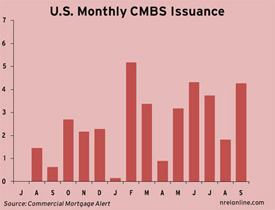 As of October 6, spreads to Treasuries on 10-year fixed-rate triple A conduit loans stood at 339 basis points, according to Commercial Mortgage Alert. The figure was more than a percentage point higher than the 52-week average of 218 basis points. Spreads on 10-year fixed-rate triple B notes were at 4,543 basis points, up from a 52-week average of 3,890 basis points. Higher spreads would not be such an issue if market insiders knew they would stay at the current level for some time. But many are worried spreads might climb higher and higher in the short term.

The hitch is that there has been minimal loosening of terms over the past 12 months, as perilous market conditions have forced Wall Street firms to be less aggressive than they would be otherwise. Multifamily, office and retail properties still get preference because of their long term leases. While CMBS lenders will pick up some hotels, they try to limit hotels' portion of any given CMBS pool to under 15 percent because of the sector's particular vulnerability to shifting economic conditions. What's more, CMBS issues are still made up largely of core assets in primary markets or buildings with low leverage in secondary markets with good fundamentals.

---
Apple Stores Blow Past Other Retailers

Apple's retail network has brought in $14 billion over the year ending in June, which jettisoned the company to top rankings of 20 US retail chains in terms of merchandise value sold per square foot of store. A report by RetailSales states that in looking at more than 160 American retailers, Apple ranks first by a wide margin in the ability to generate revenues compared to the size of its stores. Apple's global chain of 327 stores occupy, on average, 7,886 gross sq ft of retail property, making them about the same size as the average Polo or J Crew, roughly half as large as typical Walgreen, or CVS stores. Apple's retail sales average $5,626/SF.

At this sales level, Apple's stores generate 5 to 10 times as much revenue as similarly scaled, upscale clothing stores, nearly 7 times as much as Best Buy, and about 6 to 9 times as much revenue per square foot as vastly larger, efficient warehouse stores like Costco and Sam's Club. Apple even generates about twice as much revenue per square foot as high end, luxury boutique retailers such as Tiffany and Coach. Further, the report notes that Apple has experienced a 49.1 percent jump year over year in its sales per square foot and a 70.5 percent growth in its retail revenues overall, making it the fastest grower in both metrics among the top 20 US chains.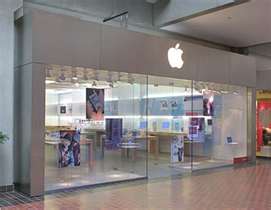 Much of Apple's growth has occurred overseas, where the company has vast potential for growth; in contrast, many US retailers have been stuck in a slump due to a poor macro-economic environment that has depressed retail revenues. Apple is also working to expand not only its store count, but increase the size of many existing stores, remodeling existing stores, moving them to larger, new locations, and building nearby stores to help cope with demand for retail sales and support.

---
Microsoft Plans New Stores to Take on Apple

While much was made of Microsoft's efforts to reenter the retail store market by going head-tohead with Apple, things have moved rather slowly for the PC software company, which has opened only eleven stores scattered around the United States over the past two years.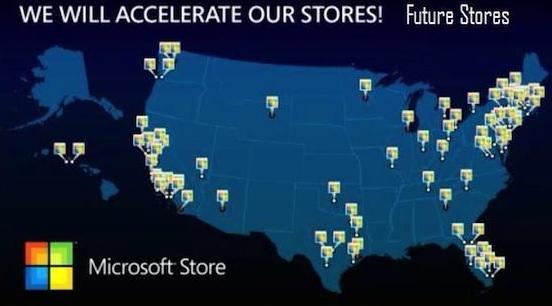 In July, Microsoft unveiled an acceleration of those plans at its Worldwide Partner Conference, targeting 75 new stores for opening over the next two to three years. The initiative will also include some international stores, mirroring Apple's own recent emphasis on international locations. Apple has approximately 350 retail store locations and continues to open new stores on a regular basis, meaning that Apple will remain significantly in the lead in terms of total stores by the end of this push from Microsoft, but it is clear that Microsoft is making a significant commitment to the initiative after only dabbling in it for the past two years.

Microsoft has mimicked Apple's retail strategy of trying to create warm and inviting spaces prominently featuring wood surfaces throughout in order to draw in customers to interact with the products on display, while also including an "Answer Desk" very similar to Apple's Genius Bars for support purposes. The company has even worked to strategically place its locations in close proximity to Apple's stores in an attempt to target many of the same customers. And while Microsoft has to rely on hardware from its partners in order to show off its PC offerings, the company's new retail push seems to indicate that it is intent on establishing a retail rivalry with Apple.

---
Outlet Center Market Active

In October, NC-based Tanger Factory Outlet Centers, Inc. (NYSE:SKT) announced that it had closed on its $56 million acquisition of a controlling economic interest in The Outlets at Hershey, an outlet center adjacent to Hershey Chocolate World and Amusement Park on Route 39 near Interstate 81 in Hershey, PA. The center will be rebranded as Tanger Outlets Hershey.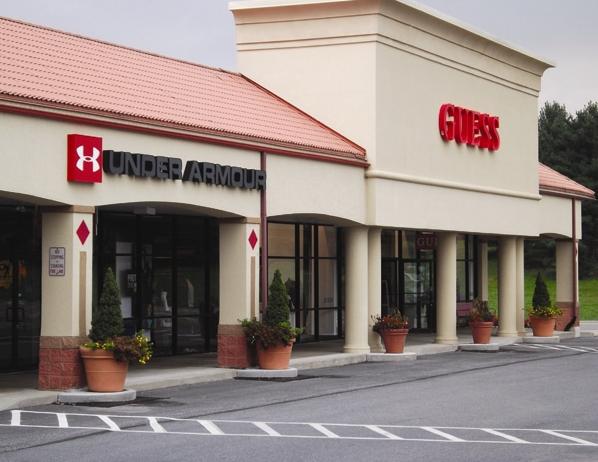 Tanger Outlets Hershey is comprised of 248,000 leasable square feet and features nearly 60 designer outlets. The combined acquisition price consisted of $24.6 million in cash and the assumption of approximately $31.4 million of indebtedness. The center is 30 miles away from another Tanger outlet center, Tanger Outlets Lancaster. This transaction is Tanger's fourth acquisition in 2011, which have cumulatively increased the firm's portfolio by 1.3 million square feet, or 14 percent. Brand name stores at Tanger Outlets Hershey include Aeropostale, Brooks Brothers, Calvin Klein, Carter's, Chico's, Coach, GAP, J. Crew, Nautica, Nine West, Oshkosh B'Gosh, Polo Ralph Lauren, Tommy Hilfiger, and Under Armour.

---
Recent Transactions

Taubman Centers Inc. agreed to purchase The Mall at Green Hills in Nashville, Tenn. and The Gardens on El Paseo/El Paseo Village in Palm Desert, Calif. from Davis Street Properties for $560 million, excluding transaction costs. The purchase price consists of the assumption of approximately $206 million in debt, up to $80 million of partnership units in The Taubman Realty Group Limited Partnership and the balance of approximately $274 million in installment notes. The number of partnership units will be determined based on a value of $55 per unit.

The Mall at Green Hills is an 887,000-square-foot fashion center anchored by Dillard's, Macy's and Nordstrom. It was completed in 1955. The Gardens on El Paseo/El Paseo Village consists of two adjacent open-air retail properties across the street from each other anchored by Saks Fifth Avenue. The Gardens on El Paseo was completed in 1998 and El Paseo Village in 2010. Together, they total 236,000 square feet.

"These high quality assets, which are dominant in their respective marketplaces, are an excellent strategic fit for our company," said company Chairman, President and CEO Robert S. Taubman in a statement. "We are projecting their sales to exceed $700 per square foot on average in 2012. The occupancy costs of these centers average below 10 percent - significantly less than the occupancy costs of our portfolio. As a result, we believe there is an opportunity to substantially increase their Net Operating Income over time." Taubman Centers' board of directors already approved the transaction. It is subject to due diligence and is expected to close in the fourth quarter of 2011.

In another transaction, Marcus & Millichap Real Estate Investment Services negotiated the sale of a 352,073-square-foot Walmart Supercenter and Sam's Club in Douglasville, Ga. to a private REIT for $32.8 million in an all-cash transaction. The price represents $93 per square foot. Both the Walmart Supercenter and Sam's Club were constructed in 1999. The base triple-net lease term on the properties runs through November 2019 and contains six five-year options. Craig F. Johnson, associate vice president in Marcus & Millichap's Atlanta office, represented both parties in this transaction.

---
Recent Assignment

American Valuation Group, Inc. announced in October that the company was retained to provide assessment consulting services on Coral Ridge Mall, a super-regional shopping mall located in Coralville (Iowa City metro), Johnson County, Iowa. The 1,080,000 square foot, one-level, enclosed mall, which opened in 1998, is conveniently located on Interstate 80 (I-80) with 45,000 vehicles per day, one mile east of the I-80/I-380 interchange. The mall sits on a 120acre site, and some 30% of shoppers are from outside the trade area. Coral Ridge Mall is anchored by Best Buy, Dillard's, JCPenney, Scheels Sporting Goods, Sears, Target, and Younkers. Other unique attractions include an NHL regulation-size ice arena, a 10-screen theater with stadium seating, a themed children's play area and Iowa's only interactive Children's Museum.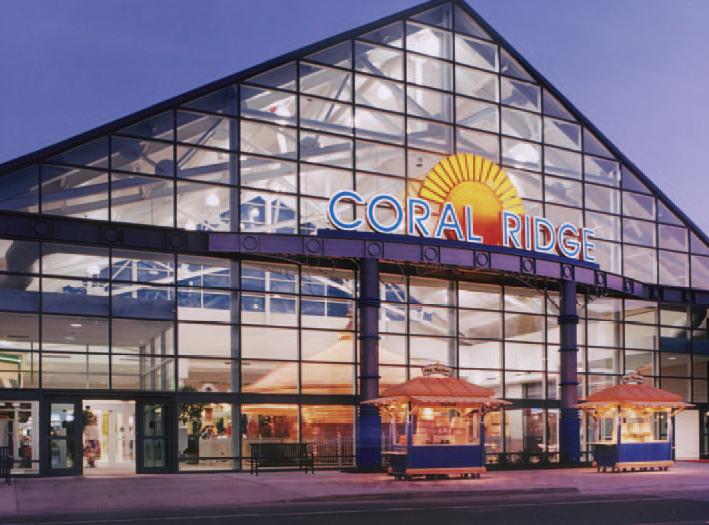 Coral Ridge Mall has unique design and merchandise, which includes a mixture of traditional and big box stores, with strong drawing power. The mall is the dominant mall in its trade area due to size, location and tenant mix. In addition to the anchor stores, the mall has 125 stores and restaurants, including Aéropostale, Barnes & Noble, Chico's, Coldwater Creek, Express, Forever 21, Hollister Co., LOFT, Old Navy, Victoria's Secret, Wet Seal and Zumiez. The mall also features a food court. General Growth Properties, Inc., the nation's second largest publicly traded shopping mall real estate investment trust, owns the mall and handles leasing and management.

American Valuation Group, Inc. was retained for assessment consulting services for a possible county revaluation of the Coral Ridge Mall, which includes the mall proper but not the department stores and peripheral outparcels.

---